Examples of Spring Email Newsletters with Ideas and Tips
Spring email newsletters should be a breath of fresh air. They are invigorating, energizing, and inspiring. It is here where you can finally spread your wings after a long cold winter. Subscribers are longing for warm and sunny designs that herald changes in weather, mood, and life. Everyone expects something good, so why not give your contacts what they want using email campaigns?
Create Email Templates with Postcards Email Builder
Postcards: Email Template Builder
Let's dive into the magic of spring email newsletters as well as consider some helpful tips and tricks that can make email marketing campaigns flourish and blossom.
Spring Holidays Calendar
Although spring is not famous for huge sales-centric holidays like Thanksgiving with BFCM weekend or Christmas with New Year, it still has some important days. So, what holidays you can make work for you during the after-winter season?
No-Code Email Template Builder
With Postcards you can create and edit email templates online without any coding skills! Includes more than 100 components to help you create custom emails templates faster than ever before.
Try Free
Other Products
Employee Appreciation Day (March 1)
International Women's Day (March 8)
Pi Day (March 14 is for all the geeks out there)
St. Patrick's Day (March 17)
Spring Solstice (March 20)
Baseball Opening Day (March 26 is for sports fans)
April Fool's Day (April 1)
Good Friday (April, Friday)
Coachella Music Festival (Mid-April for music fans)
Easter
Earth Day (April 22)
May Day (May 1)
Star Wars Day (May 4 is for all Sci-Fi fans out there)
National Teacher's Day (March 8)
Victory in Europe Day (March 8)
Mother's Day (May 12)
Armed Forces Day (May 18)
Memorial Day (May 25)
As you can see, we have quite a list here; therefore, you can send out a celebratory email newsletter almost every week. Plus you can add these dates and you will end up with lots of opportunities to tout products, generate leads, and raise money.
End of Winter
Start of Spring
New Collection arrivals
Mid-season sale
End of Spring
Summer is coming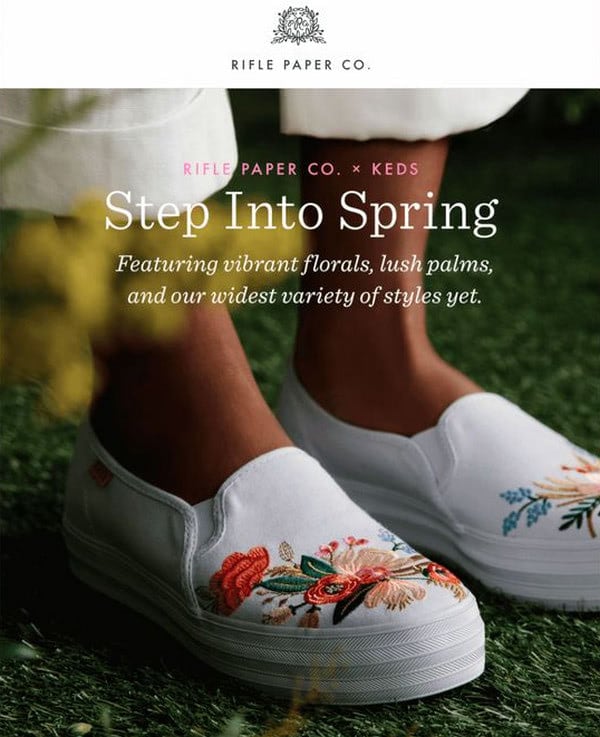 Email Newsletter from Rifle Paper
Spring is a time for rejuvenation, growth, and renewal, making it the perfect season to freshen up your email newsletter content. To help you craft engaging newsletters that will delight your subscribers, we've put together a list of inspiring topic ideas to write about this spring. From spring cleaning tips to seasonal recipes, these ideas will breathe new life into your email newsletter and keep your readers engaged.
Spring Cleaning Tips and Tricks
Kick off your spring newsletter with a segment on decluttering and organizing. Offer your readers practical tips to help them refresh their homes and workspaces. You can provide advice on the best cleaning products, create checklists for different rooms, or even suggest eco-friendly cleaning solutions.
Outdoor Activities and Events
As the weather warms up, people are eager to spend more time outdoors. Share information on local events, outdoor activities, and new spring experiences. Include family-friendly options, like community gardens, farmers' markets, or nature hikes, as well as events for adults, such as outdoor concerts, art fairs, or wine tastings.
Seasonal Recipes and Food Ideas
Spring is the season of fresh produce and light, flavorful dishes. Share recipes that showcase the best of the season, from colorful salads and vegetable-forward dishes to bright, citrusy desserts. You can also suggest ways to incorporate seasonal ingredients into everyday meals and offer tips for healthy eating during the warmer months.
Fitness and Wellness Tips
Spring is a great time to renew commitments to personal wellness. Offer your readers fitness tips, workout routines, and wellness advice to help them shake off the winter blues and embrace a healthier lifestyle. You can also introduce new fitness trends or share local fitness classes and events.
Spring Fashion and Beauty Trends
As the seasons change, so do fashion and beauty trends. Share the latest styles, colors, and accessories that are popular this spring, along with tips on how to incorporate these trends into your readers' wardrobes. Don't forget to include seasonal beauty advice, such as skincare routines, makeup trends, and hair care tips.
Gardening and Landscaping Ideas
Many people get excited about gardening and landscaping during spring. Offer your readers advice on how to start a garden, choose the right plants for their region, and maintain a healthy landscape. You can also share information on eco-friendly gardening practices, like composting, water conservation, and natural pest control.
Travel and Vacation Planning
With warmer weather and the promise of summer on the horizon, many people start thinking about travel and vacations. Share ideas for spring getaways, from weekend trips to longer vacations. Offer tips for finding the best deals on accommodations, activities, and transportation, or recommend must-see destinations and attractions.
Can't Miss Spring Email Campaigns
As our list of spring holidays shows, almost every week has a special day. It means that you can send out festive email newsletters regularly. However, you should not. The rule of thumb states, "always leave them wanting more;" do not get carried away. Strike a balance between holiday email newsletters and regular ones, and you will be able to generate a steady flow of leads and cement your relationship with contacts.
In between sales
As a rule, these email newsletters come right before the season when it feels like subscribers are sick and tired of winter. Notify contacts about the upcoming warmth, climate changes, nature awakening, and some other good stuff that is going to happen. Hold the announcement of spring arrivals untel after St. Valentine's Day to stay neutral during the controversial love-filled holiday.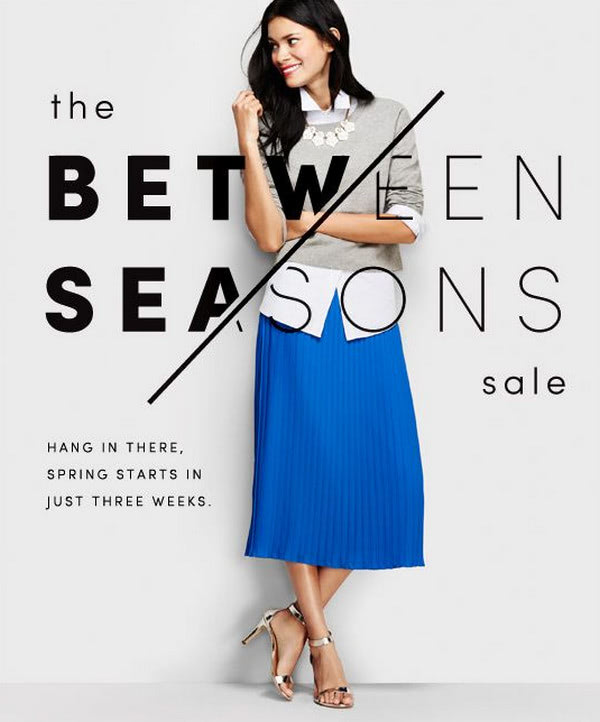 Email Newsletter from J. Crew
New collections
New season – new arrivals. The crowd is waiting for change, especially after a long gloomy winter. It is time to update the wardrobe, toolset, or uniform. Dedicate one or two email newsletters to a new collection. Show the most promising and inspiring products. Add lots of space in the design to make them look refreshing and light.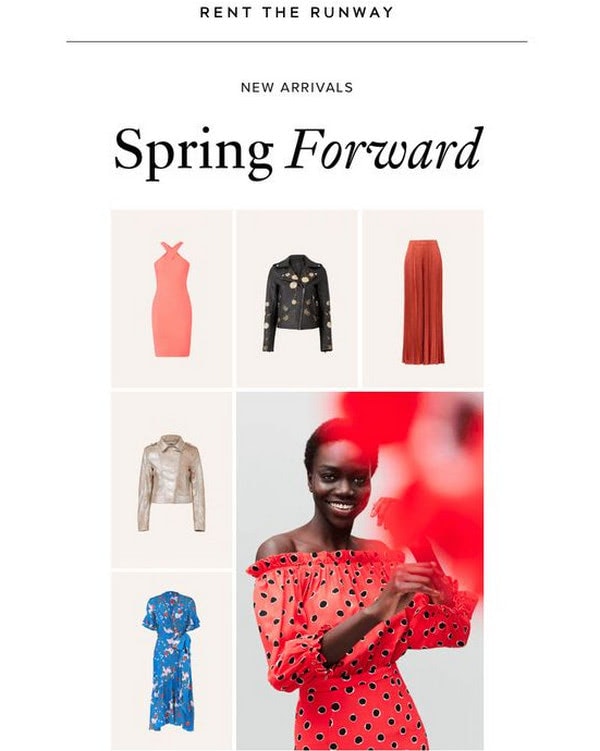 Rent the Runway
Flash sales
Flash sales are a widespread phenomenon. This type of email marketing campaign takes place every season. Spring is no exception. If you are running out of ideas or feel like it is time to cheer up subscribers, then use FOMO to your advantage and offer a good discount that is valid for a short time.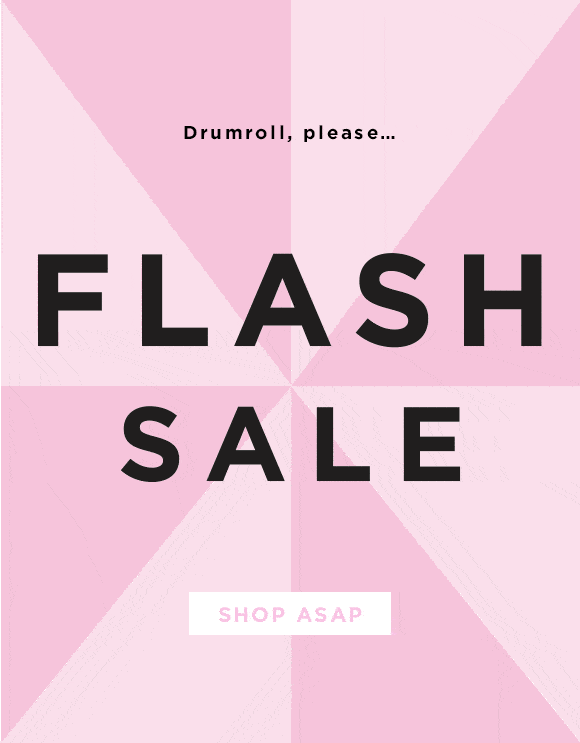 Flash Sale
International Women's Day
With the global fight for gender equality, International Women's Day can be an ideal holiday to highlight in your email newsletter. Celebrate women around the world and offer some exclusive deals to your subscribers.
Easter
Easter is one of the biggest holidays of spring and the year. Much like Christmas, you can make this holiday last for a week and even more. Celebrate Pascha and appeal to your Eastern audience. Use it to either share some sweet deals by running an egg hunt or congratulate subscribers on Resurrection Sunday.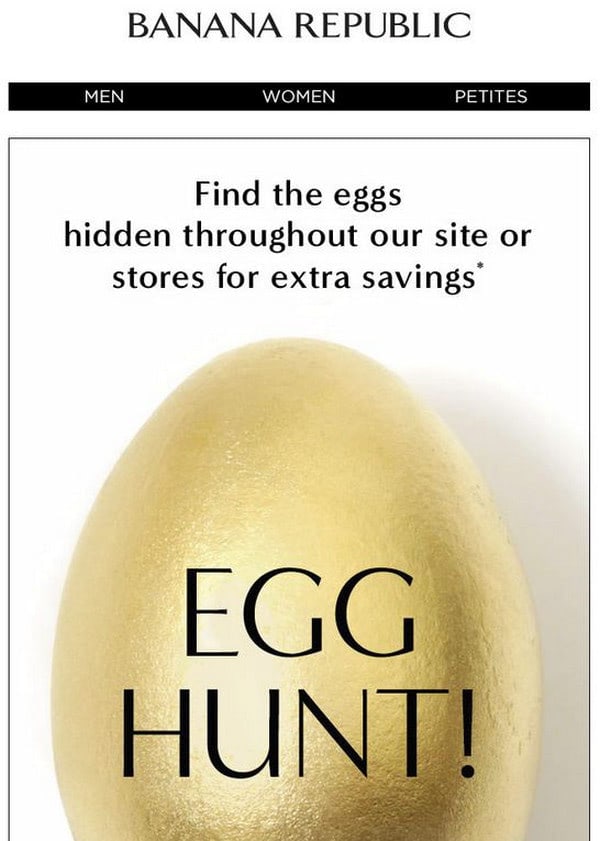 Email Newsletter from the Banana Republic
Mother's Day
Celebrated in the midst of May, it is the perfect occasion to give thanks to mothers around and prepare the ground for summer email newsletters. Make a Mother's Day email newsletter radiate of elegance, modesty, and of course, strength. It should be impregnated with love and adoration.
Email Newsletter from Gap
Gift Guide
I believe we have mentioned this idea once or twice. However, when it comes to holidays, it is one of the widely used types of email newsletters that not only adored by the marketing teams but also subscribers since sometimes we all need a little assistance and push. Therefore, if in doubt, adopt this idea.
Spring is the season of nights that are getting hotter and longer. Therefore, it is time to wake up from winter hibernations, cheer up your audience, freshen up email newsletters, and prepare yourself for the beloved and long-awaited vacation season, aka summer. Subject lines should be filled with energy, warmth, hope, and other positive and inspiring emotions. Use emojis to achieve a more significant effect.
Some high-spirited ideas of spring email subject lines are:
Goodbye Winter! Hello Spring! New Catalog is here…
First day of spring!
A first look at Spring!
Stock up for SPRING with new Arrival
The best of spring is here + Free Shipping
Pre-Spring arrivals + an extra 30% Off
New Season, New Styles, New Colours!
Leap into spring savings!
Freshen Up Your Spring Wardrobe!
Spring Yo Self!
Spring Into These New Arrivals!
It's your lucky day!
March into savings!
This sale is no joke!
Hop to Big Sales Event!
Here's a deal you MAY enjoy!
This is the sale you're looking for…
It's the mother of all sales!
Swing Into Spring!
What's at the end of the rainbow?
Egg Hunt!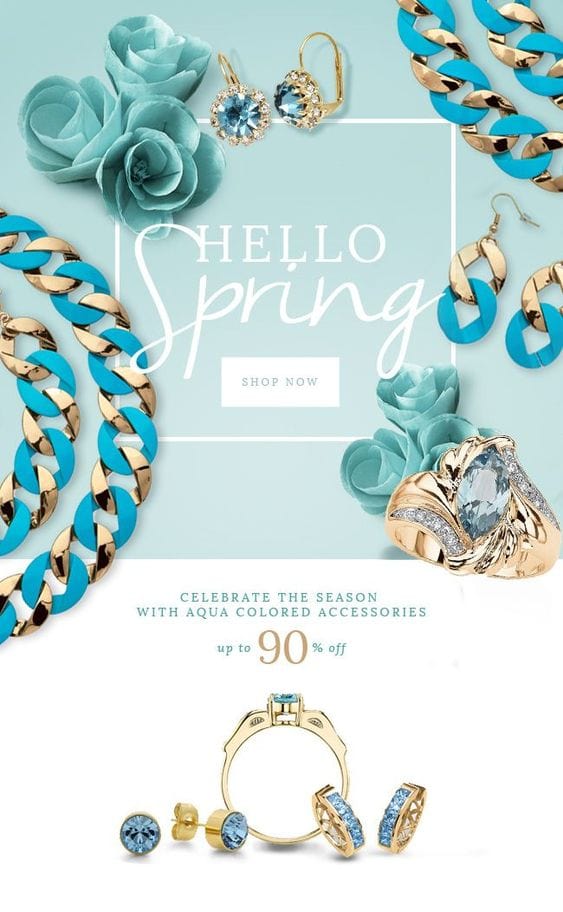 Email Newsletter from Jewelry Mail
I need not tell you that unlike fall email newsletters and winter eblasts, spring email newsletters are enriched with refreshing vernal vibes. There is always a bunch of flowers and butterflies, pastel and sometimes even bright but not hot colors, a generous amount of whitespace, subtle typography, etc. This kind of design looks fresh, brisk and lively.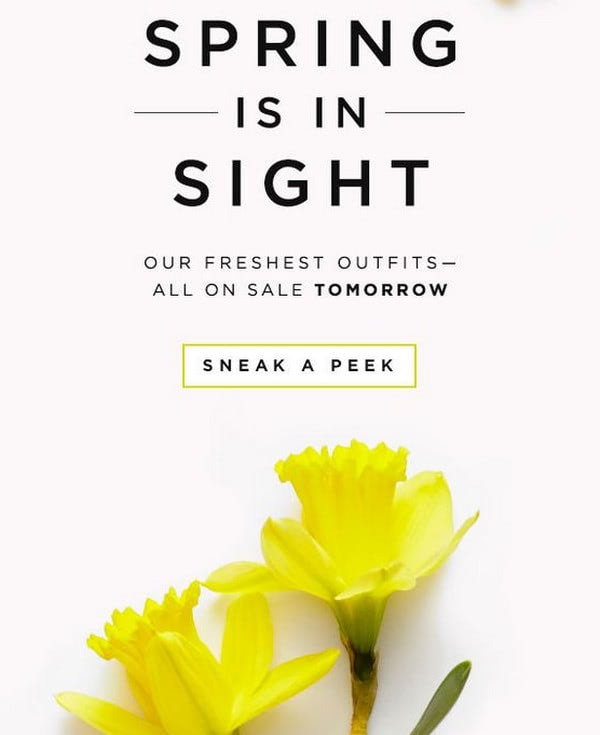 Spring is in sight
However, bouquets of tulips and peonies are not everything.
First and foremost, an email newsletter should be responsive, browser compatible, and work consistently across all the popular email readers. How can you do this without proper coding skills? It's easy – try our free HTML email newsletter builder Postcards.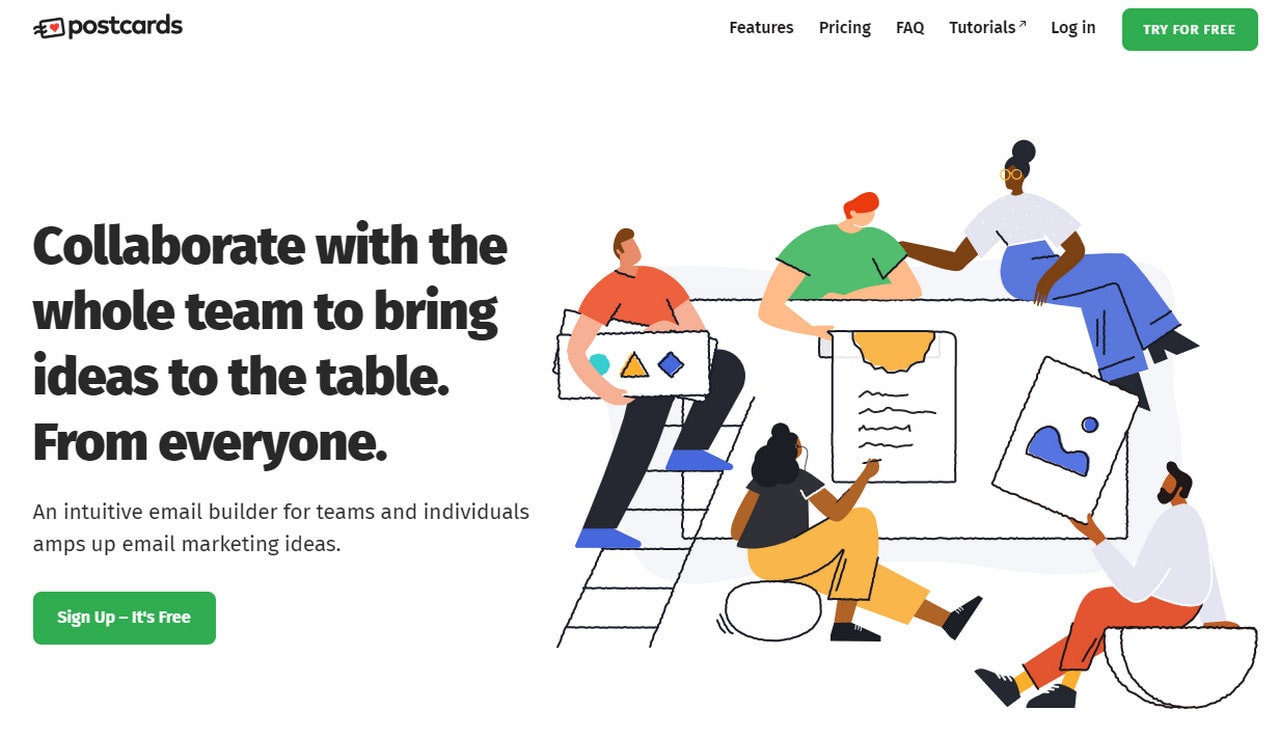 With this powerful app, all you need to do is to choose the necessary blocks among more than 100 available, edit the content, and adorn the layout with beautiful details such as images, graphics, or animated gifs. As a result, the responsive spring email newsletter can be created within minutes and without mental breakdowns or wasting a pile of money.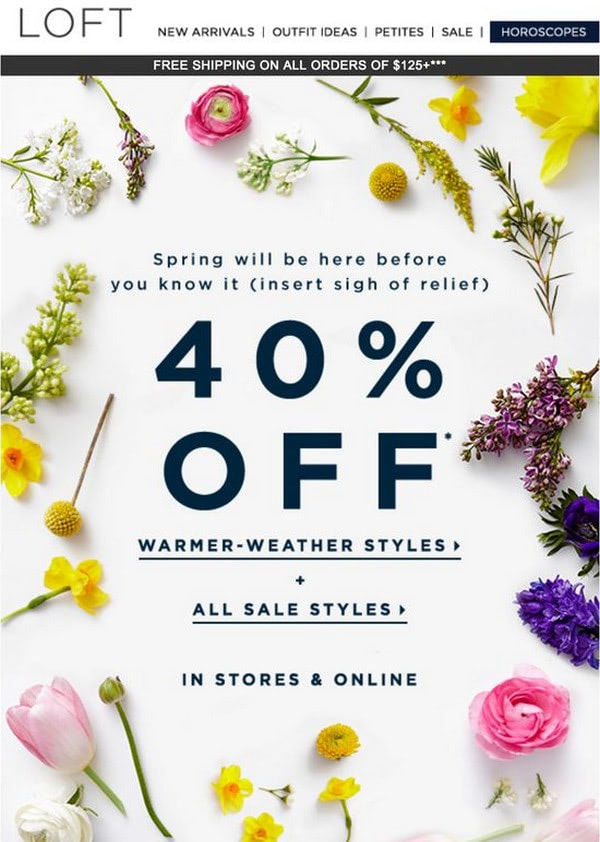 Early spring sale by Loft
Loft's email marketing team has provided us with a truly classic example where the design screams in a refreshing and invigorating way. The discount is skillfully highlighted. There is also an extra shopping incentive to strengthen an overall impact.
What's more, is the pre-spring eblast was sent to the audience in February. The team managed to bring value to the contacts and cheer them up with an energizing design.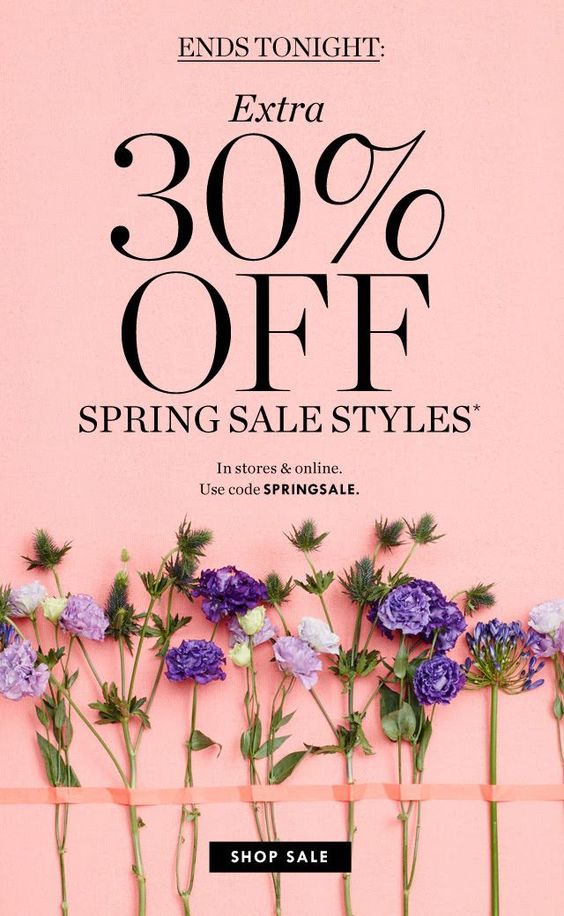 Email Newsletter from J.Crew
Some tricks never get old. The thing that sells this email newsletter to the audience is a visually heavy offer of "30% Off." Although numbers are not as impressive as they could be, the announcement is what compensates this and makes the statement loud as ever.
Occupying the entire upper part of the screen, the email newsletter offers a sweet deal to the audience. By adding "Ends Tonight" as the first line at the top, the marketing team has naturally stressed the urgency and primed onlookers to visit the store right now. As for spring motifs, the entire footer was given to it. Simple but effective.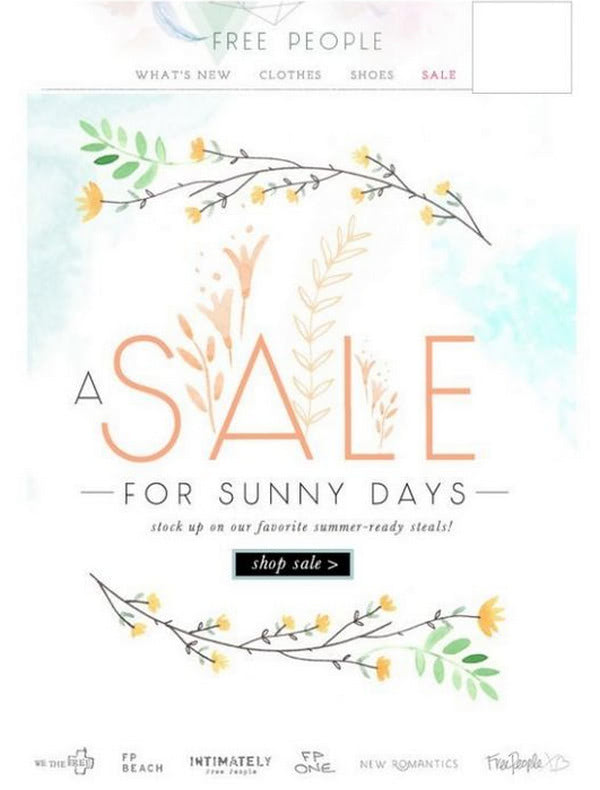 Email Newsletter from Free People
Unlike the first example in our collection, this spring email newsletter closes the season by announcing pre-summer deals. Note several things.
First, design. It is gorgeous. Watercolor ably contributes to the spring-summer theme, hinting about vacation.
Second, the team has bet everything on the powerful word "SALE." It is so unobtrusively worked into the layout that it feels natural.
Finally, the email newsletter looks like a postcard that is pleasant to explore and even re-read.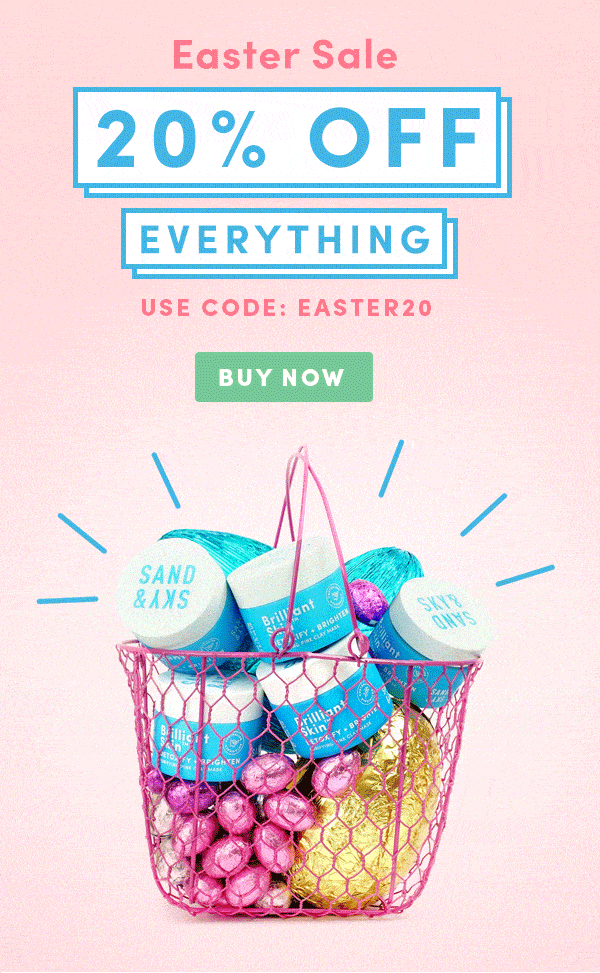 Easter Sale
According to Email Design Trends for 2020, animated gifs, as well as one column layouts, are going to rule the roost. And it seems that the marketing team was perfectly aware of that. What's more, with its juvenile design, it also complies with the web design trends as well as conveys the nature of the season that is widely associated with everything young. Simple yet brisk and undoubtedly effective.
To imitate this trendy solution at home, try Postcards. Just choose the right layout and quickly populate it with your content and graphics. Within minutes you will have a fully responsive, stylish, and refreshing spring email newsletter. It will not let you down when it comes to displaying information in various email readers and gadgets as well as impressing readers with outstanding features.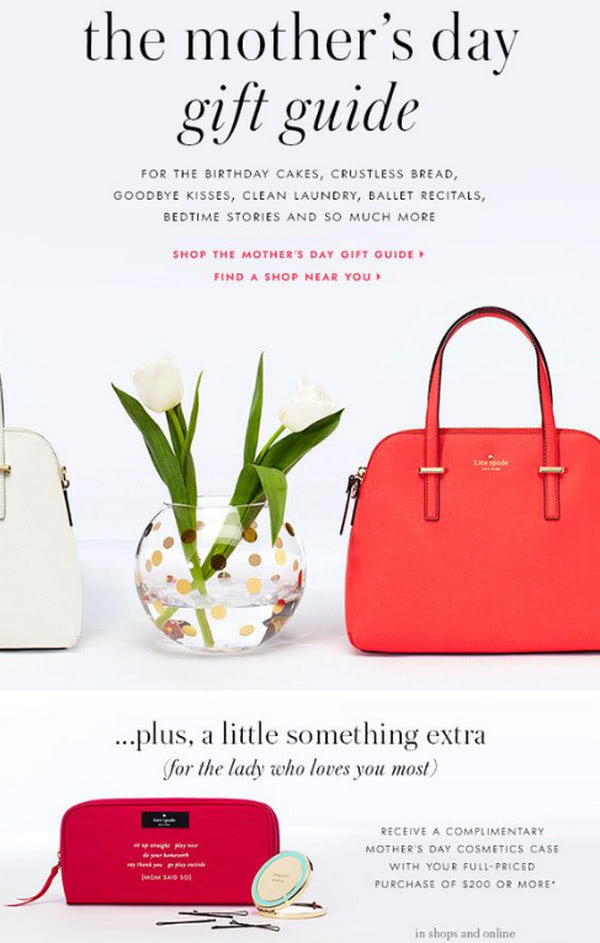 The Mother's Day Gift Guide
While others celebrate Mother's Day with a discount, the team behind the email newsletter from Kate Spade pleases their audience with a helpful gift guide. Content is always king that can win over potential clients with a piece of truly valuable information. However, it does not mean that you should blindly rely on it.
And the team is perfectly aware of it. Therefore they have also added an offer of a complimentary gift for every full-priced purchase, thereby playing a reciprocity card. This clever approach is a way to go for all of those who cannot afford a discount in the middle of May but still want to draw the attention of the contacts and tout the products.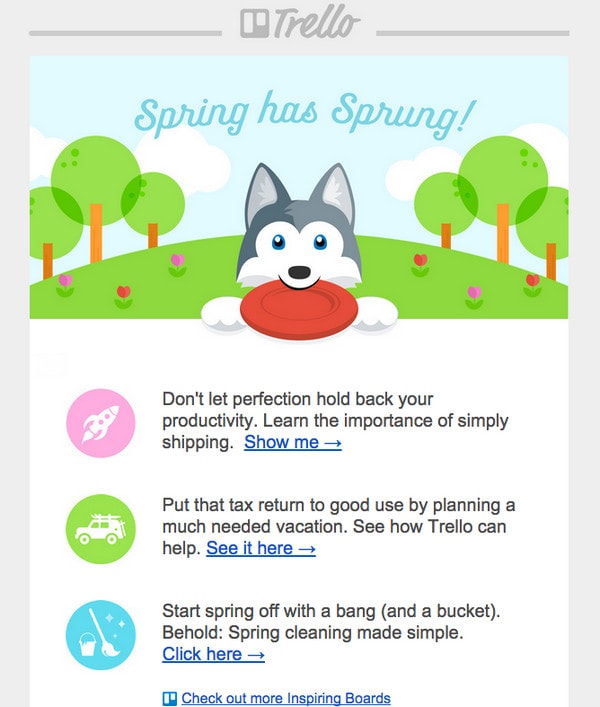 Spring Has Sprung
The spring email newsletter from Trello stands apart thanks to a solely informative approach. Unlike the rest featured here, it does not have a discount or shopping incentives; it is just a valuable piece of information that includes links to inspiring boards. Its bright image background sets everyone in a positive mood and supports the title quite efficiently. The team has congratulated everyone on the new season as well as brought value, thereby contributing to the relationship with the audience.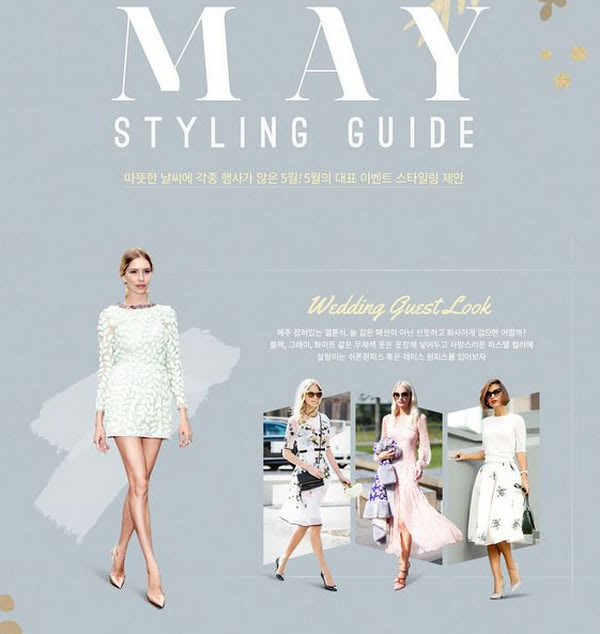 May Styling Guide
If you like gift guides, then you should undoubtedly try a styling guide. After all, spring along with summer is made for sharing fashion tips and tricks with others. The team behind the email newsletter from Wizwid shows how to do this.
Their email newsletter is all about preferable styles in May. Although it is pretty straightforward and simple in terms of design, the idea is brilliant. Most importantly, it is pretty unobtrusive. The team ignites interest with attractive images and avoids being pushy and bossy. As a result, you follow their lead because of curiosity.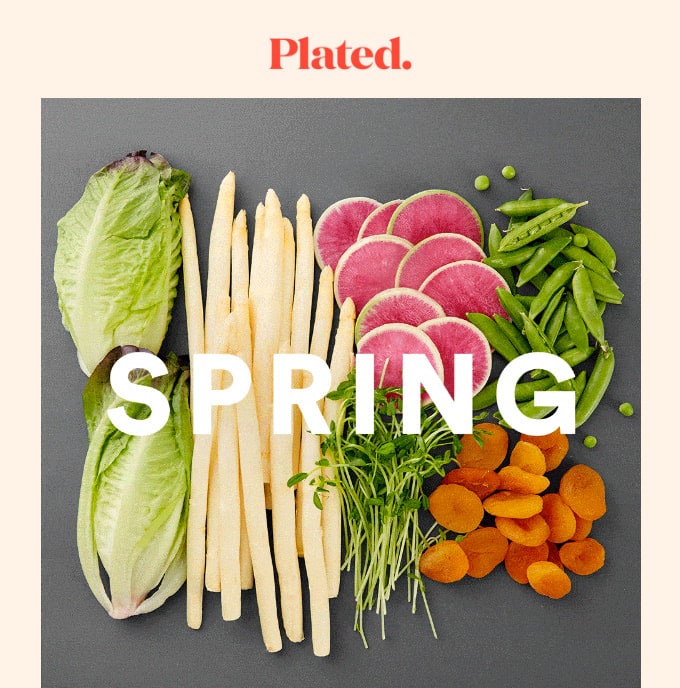 Meet your new spring favorites 🌱
Email Newsletter from Tarte
Another alternative to gift guides and styling guides is a checklist. Again, this is a veiled way of touting and foisting goods. The email marketing team behind Tarte has shared a spring break checklist giving them some hints on what essentials to use during the vacation. Note, there is a small animated gif skillfully incorporated into the layout that adds to the experience.
Last but not least
Before sending out a spring email newsletter to your subscribers make sure you check and double-check such vital things as:
The subscription list. It should be cleaned up and segmented.
The content. It should be error-proofed.
The subject line. It should be exciting but also short and concise.
Email newsletter. It should be responsive.
Remember, there is lots of stuff to check. To find out more, read our comprehensive guides:
Spring is a time of renewal and excitement, making it the perfect season to refresh your email newsletter content. By incorporating these engaging topics, you'll keep your readers interested and looking forward to future newsletters.
Like what you're reading? Subscribe to our top stories.