Examples of Great Fall Email Newsletters with Tips and Tricks
Fall is ideal for email marketing campaigns. It is that time of the year to enjoy quality time at home with a cup of warm tea and delicious biscuits while surfing the web. It is a perfect opportunity to catch potential customers interest with a well-thought-out email newsletter.
Autumn is a vital period in the email-marketing calendar. First and foremost, it sees one of the most significant events – Black Friday and Cyber Monday to start the holiday season. Even though logic dictates that November should be your top priority, as we know, nothing is done at the last minute. Both September and October play a crucial role in the success of November campaigns.
These months have their own aces in the hole. October has Halloween, and September has the First Day of School. Fall email newsletter campaigns start in early September and run through November. Quite often they are used to:
Focus on long-term goals
Lay the foundation for big days
Improve overall marketing strategy
Contribute to the relationships with subscribers
Engage and prime users
Test shopping incentives
Treat contacts with unexpected sales
Fall Season-Specific Ideas
Following a season-specific theme is the simplest way to make fall work for you. There are several important events:
Back to school. Everyone is waiting for a fresh start, and the first day and even a week of September were explicitly created for that. Do not forget to treat your undergraduate followers with student discounts.
Start of the sports season. The NBA, NFL, and NHL begin their seasons in early autumn. Align your email newsletter to these events.
Start of charitable programs. Fall is famous for philanthropy events that usually take place in September and October.
Start of new collections. Although it may seem that this is a case of fashion-related companies, however, this is a common misconception. Whatever business you are running, chances are you will add new items or refresh existing ones. Therefore, it is a suitable occasion to send out an email newsletter with the announcement of something new coming.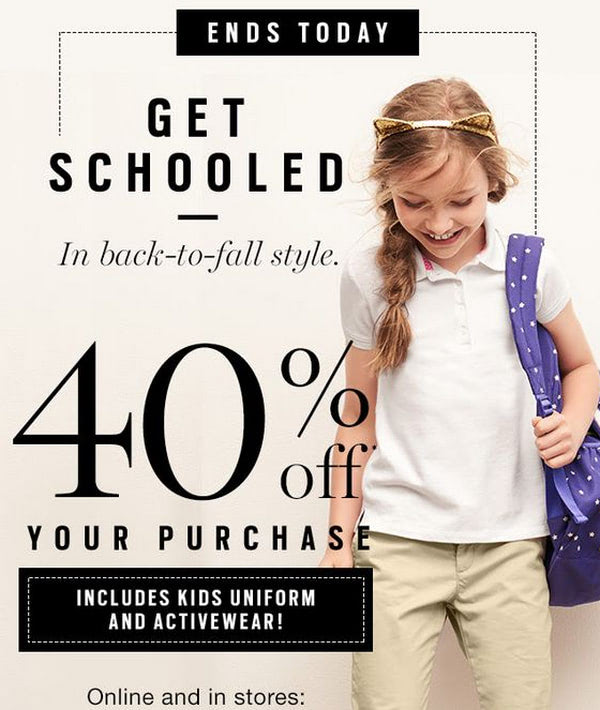 Back to School Email Newsletter
Add to this these five season-specific themes:
No-Code Email Template Builder
With Postcards you can create and edit email templates online without any coding skills! Includes more than 100 components to help you create custom emails templates faster than ever before.
Try Free
Other Products
End of Summer
Mid-Season
Start of Holiday
Start of Christmas Season
Pre-Christmas
And you will end up with lots of favorable opportunities to not just increase your revenue but to improve your overall marketing strategy.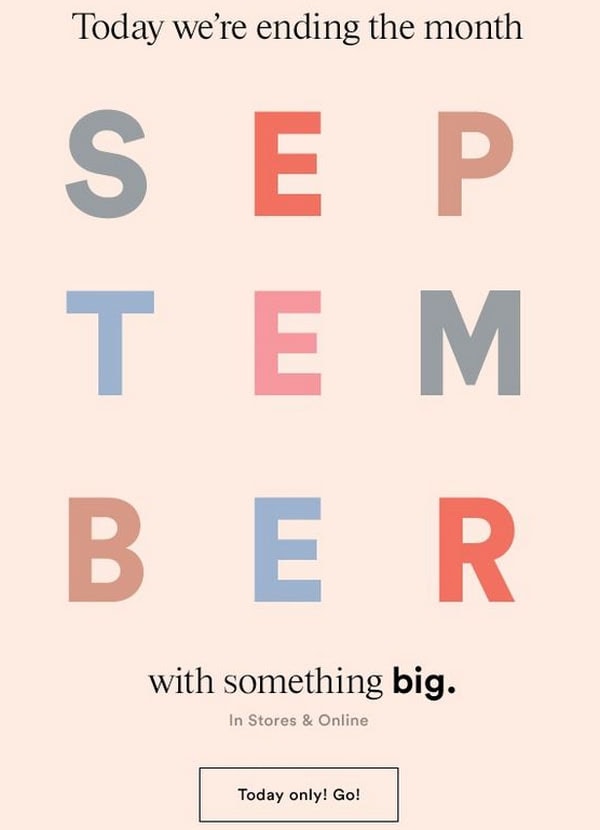 Email Newsletter from Ann Taylor
Moreover, if you run an online store whose audience is the entire world, autumn is perfect for conducting segmented campaigns and benefiting from various holidays and festivals. For example, you can devote one of your email newsletters to Octoberfest that is incredibly popular not only in Germany, where it was originated but also in Europe.
Alternatively, you can celebrate U.S. Labor Day or Independence Day in one of the EU countries.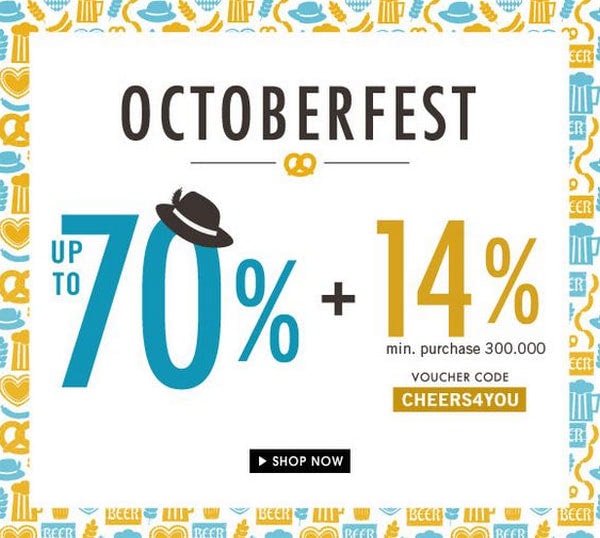 Octoberfest email newsletter
If you are eager to seize every opportunity thrown by fall, then you will need a reliable tool to quickly bring your ideas to life. Try a free HTML email template builder with a drag-and-drop interface, such as Postcards.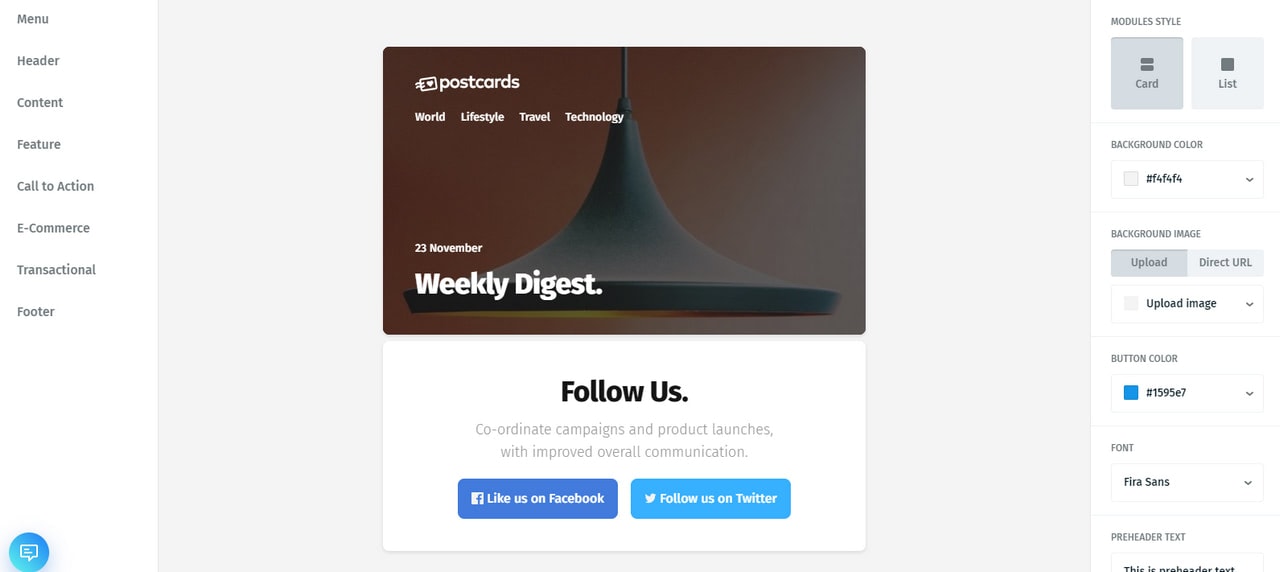 With more than 100 hand-crafted, mobile-friendly, and fully customizable components, it will save you time, money, and nerves. It is ideal for those who do not have any coding or design skills but want to treat the audience with professional-looking email newsletters. Use it to build responsive layouts with beautiful design and interactive spots that easily integrates with all the popular marketing platforms.
Holiday-Specific Ideas
Like any other season, fall has a couple of big days, namely Halloween and Thanksgiving.
Halloween
Halloween is fun, playful, and not just for kids. Adults also adore this spooktacular feast, waiting for "creepy" discounts in their inboxes. Therefore, it just should not slip through your fingers.
Start your Halloween email newsletter campaign beforehand to generate excitement and hook the audience. Run it the entire month of October and culminate it right in the midst of trick or treating.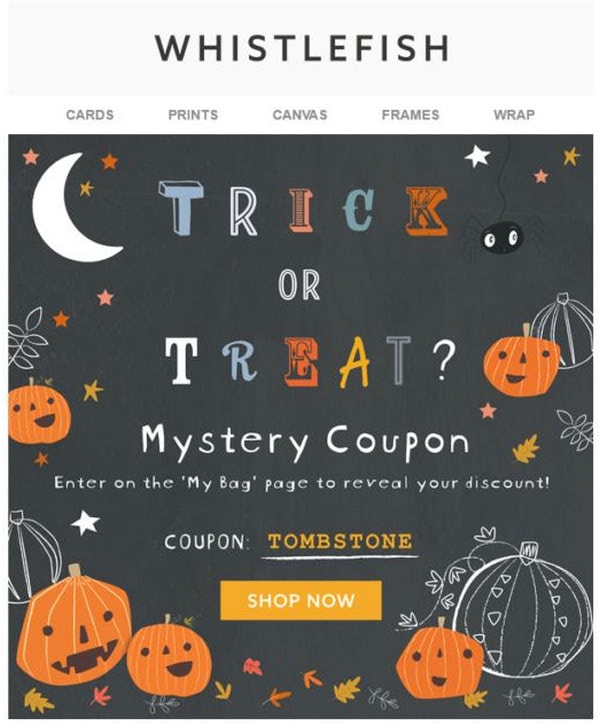 Trick or treat from Whistlefish
Thanksgiving Day
Or should I say Grey Thursday?
While for subscribers, this day will be all about giving thanks, gathering with relatives and friends, eating turkey, and watching TV; for email marketers it will be the beginning of one of the busiest weekends in the year, and of course the Christmas shopping season.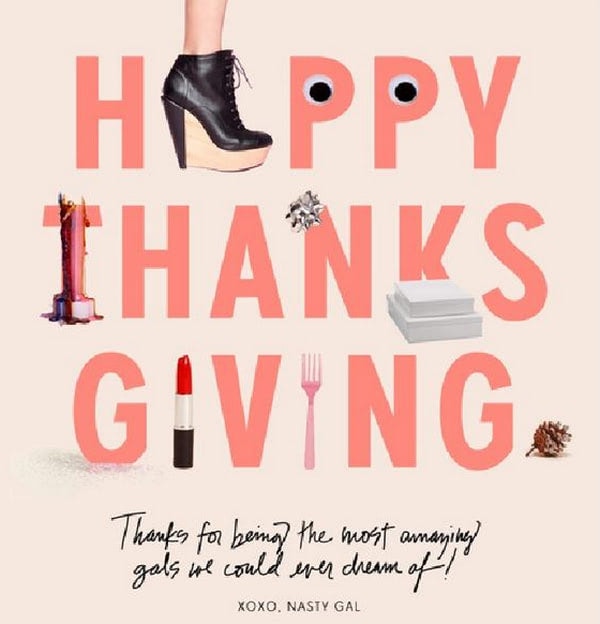 Happy Thanksgiving from Nasty Gal
Best practices for running successful Thanksgiving email campaigns recommend sending out the first festive email newsletters as early as possible. The day or two after Halloween is a perfect time to start. Treat contacts with sneak peeks and regular festive e-blasts to generate a festive spirit. The great thing about Thanksgiving is that people will be in the mood for spending money and buying stuff at bargain prices, so why not make this period beneficial for all?
Black Friday and Cyber Monday
We could not leave these without attention. They are the stars of the show when it comes to autumn. Although they close the season, they do it with panache. Black Friday and Cyber Monday demand lots of attention, effort, and skills; check out our guides to nail them.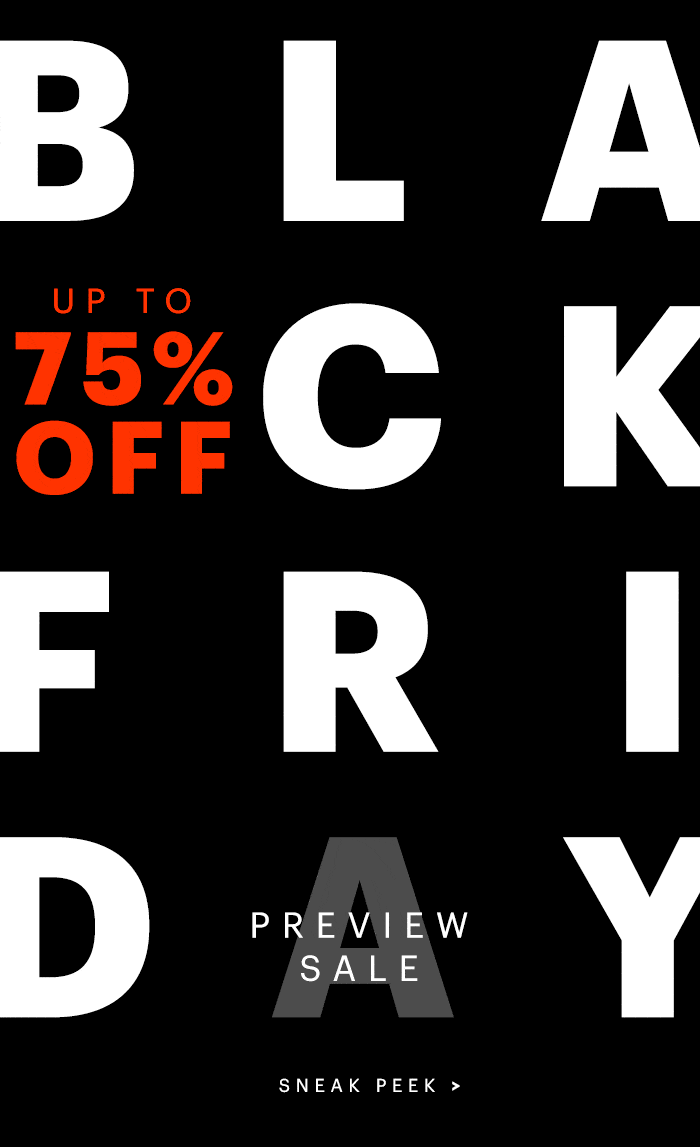 Black Friday Sneak Peek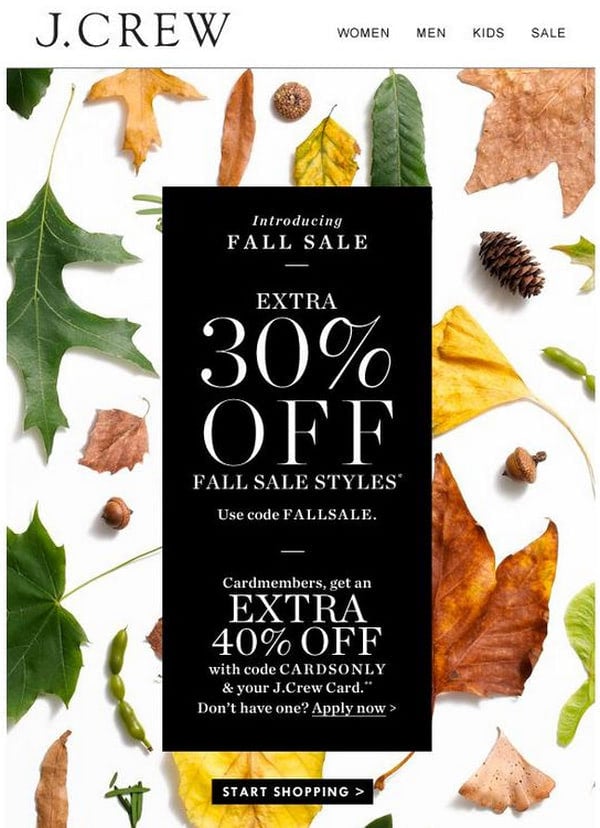 Email Newsletter from J.Crew
We could not help but start our collection with a fall email newsletter from J.Crew, because the brand is famous for outstanding email newsletters. This one is no exception. The design gets the point across quite efficiently.
For setting the mood, the team used a neutral yet clever image backdrop that features objects that are widely associated with the season: autumn leaves, acorns, and pine cones. For promoting the deal, the team has played the traditional trick opting in favor of a high contrasting section where the big font size screams out the offer.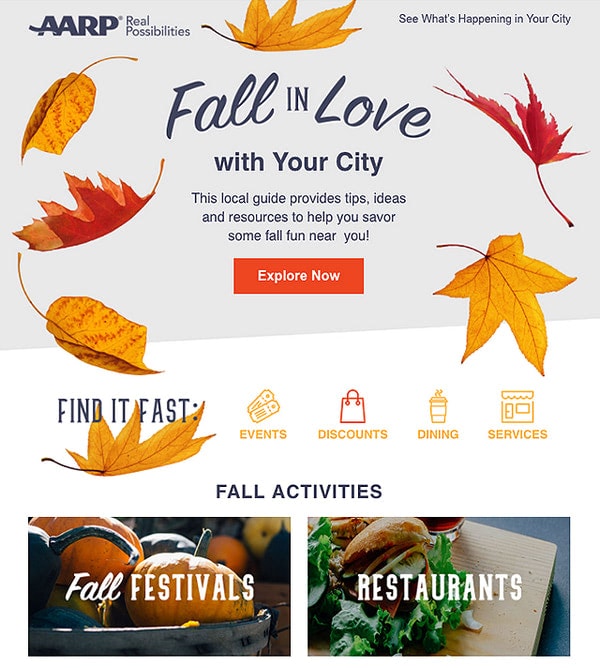 Fall Guide to Your City by AARP
If you still ask how to bring valuable content to the audience this autumn, then here is your answer – create a concise guide. The team behind AARP gives you some hints on how to connect products to the autumn theme.
Using a healthy balance of textual and visual content, the team has skillfully transformed the long email newsletter into an absorbing piece of work that includes only exciting reading material. Note, it does not have any pushy "best deals ever," "%" signs, or free perks. Yes, it does have an offer, but it is so seamlessly integrated that it feels like a suggestion. Here images are used to play to all your subscribers' senses, whereas leaves-inspired décor conveys the autumn atmosphere.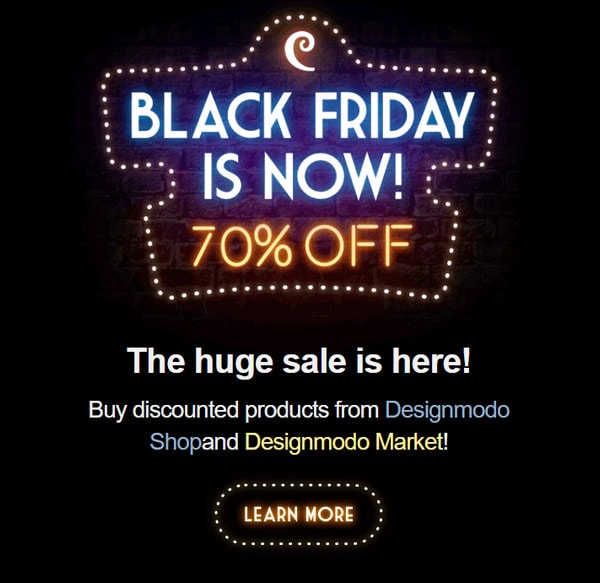 Black Friday by Designmodo is a representative example of a successful collaboration of minimalism and animated content filled with bright coloring to lighten the mood of those who may feel depressed.
You do not have to reinvent the wheel – all you need to do is to create a small show for subscribers. Use an animated gif that drums up interest from the first seconds and brings the deal into focus. Although there are no autumn motifs, Black Friday does not need them since its name speaks it all.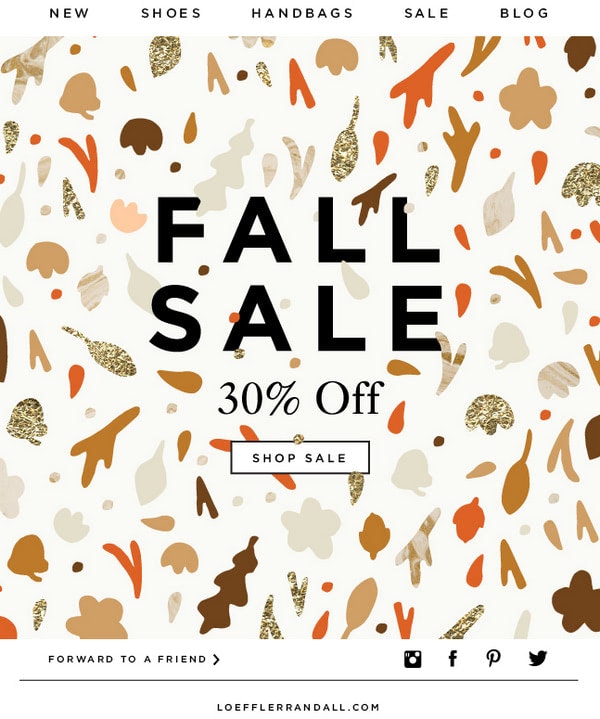 Email Newsletter from Loeffler Randall
There is an obvious nod to fall colors in the email newsletter sent by Loeffler Randall. The illustrated backdrop is simply outstanding. The design is minimal yet straight to the point. You don't have to look for offers or CTAs, everything is on the surface and dished up in a pleasant manner that meets the mood of the harvest season.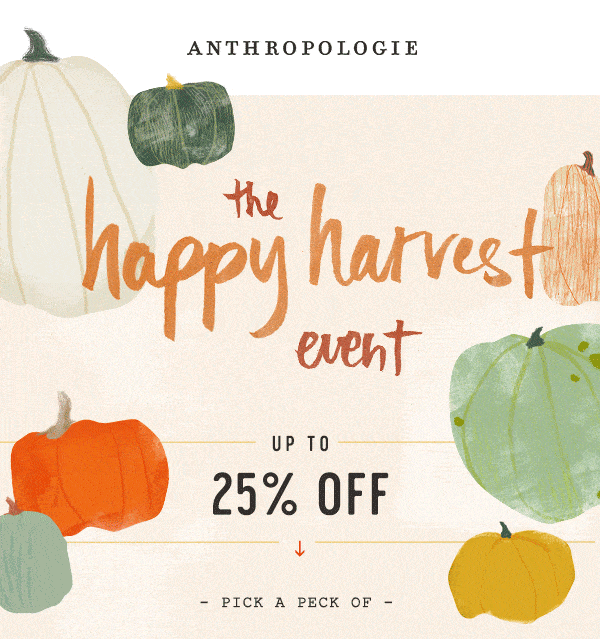 Happy Harvest Event from Anthropologie
You do not need a special occasion to treat subscribers with exclusive deals, because you can always play a card of "Harvest Event." The team behind Anthropologie's email newsletter showed this in practice.
Their email newsletter does not have any sign of big days; it is just a regular e-blast with a 25% discount.  Again, it has a minimal design where the fall-inspired animated gif steals the show. Simple yet brilliant.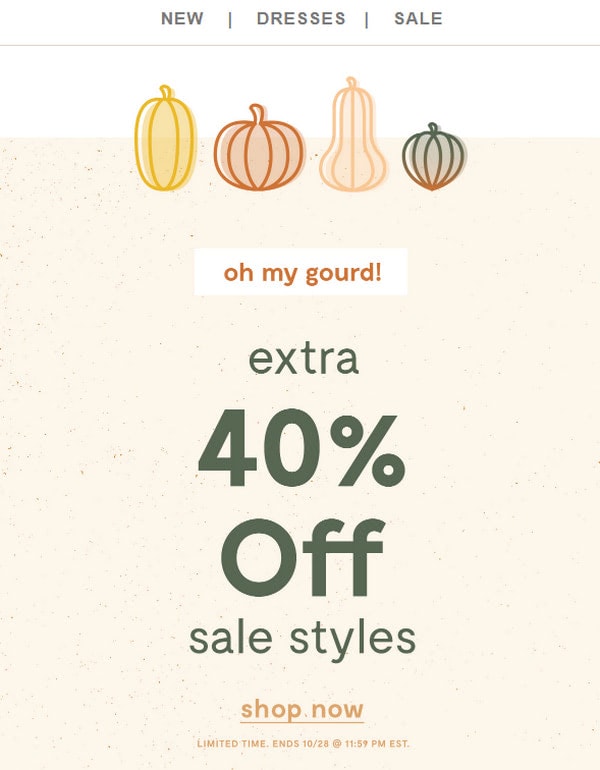 Email Newsletter from Modcloth
The first thing that strikes the eye here is four different shaped pumpkins. Some may see in the body shapes, while others see types of dresses. However, one thing for sure; this email newsletter instantly gets attention. It is increasingly neat and smart.
Warm earthy tones and minimal decorations make it fit perfectly in the pre-winter season. As for accentuating attention on the deal, relatively big typography placed against almost empty background gracefully deals with it.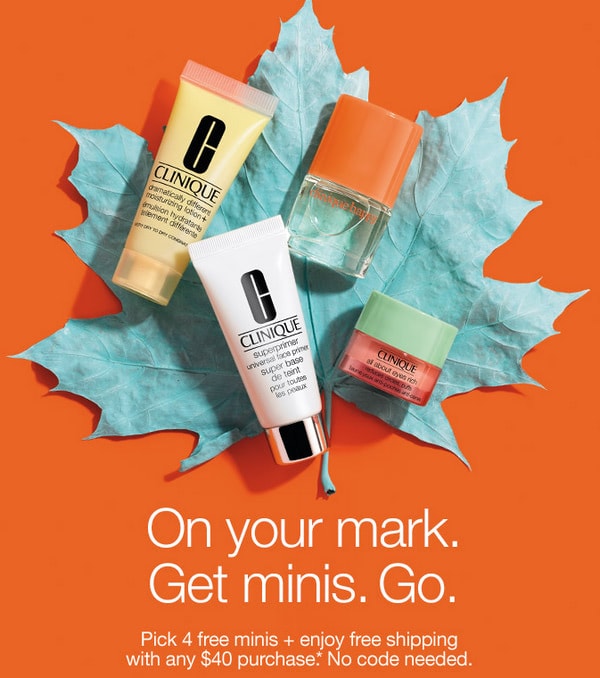 Email Newsletter from Clinique
Who said that a fall email newsletter should be centered only around earthy tones? Even though it is customary to use orange, brown, and yellow, however, it does not mean that other colors can't do the trick. Just consider this incredible email blast from Clinique.
Opting in favor of neon blue, the email stands out. It is one of those cases where the image is worth a thousand words. Note, it is just a small announcement of a minor deal, yet it speaks volumes.
Subject Lines
Even a high-converting email newsletter can't exist without a good subject line. Therefore, be ready to come up with something catching. There are several tips to follow in order to create the title that will prime the subscribers to click on the link.
Be short and concise. Do not be afraid of using the "SALE" or a "%" sign. Do not overlook the power hidden inside seasonal emojis. Finally, use clever wording, catchy rhyming, festive words, sports-related phrases, and of course, puns.
Need some inspiration? Check out these fantastic subject lines:
The un-be-leaf-able deals
These deals will leaf you speechless
Fall for our deals
Fall in love with our deals
Harvest your best fall wardrobe
End of Summer Sale
Back to school cool
Get your closet fall-ready
Just In! Your New Fall Faves
The must-haves for fall
New Styles to Fall In Love With
Fall Is Lit!
Autumn in the air: 40% off
Get Ready For Colder Weather
Fall for Fall
Gear Up for Autumn!
Fall into Autumn: See Our Best Deals
The Sun is Setting on This Sale.
All eyes on the new season
Fresh Fall Looks
Say hello to fall
Time to layer up
Fall Arrivals are Here
It's your closet favorite season
As you have already noticed, we focused on subject lines with the word "Fall" in them. For subject lines dedicated to Thanksgiving, Halloween, and BFCM check out our best practices.
Email Newsletter from Webtek
Necessary Preparations and Last-Minute Tips
Every email marketing campaign requires undivided attention. Good design with a "seducing" offer and eye-catching subject line do not guarantee success. Your fall email newsletter does not exist in vacuum.
Do not forget to:
Clean up your subscription list
Segment the audience
Analyze previous campaigns
Do A/B tests
Check your email newsletter against limitations
Find out the best time sending
Align transactional emails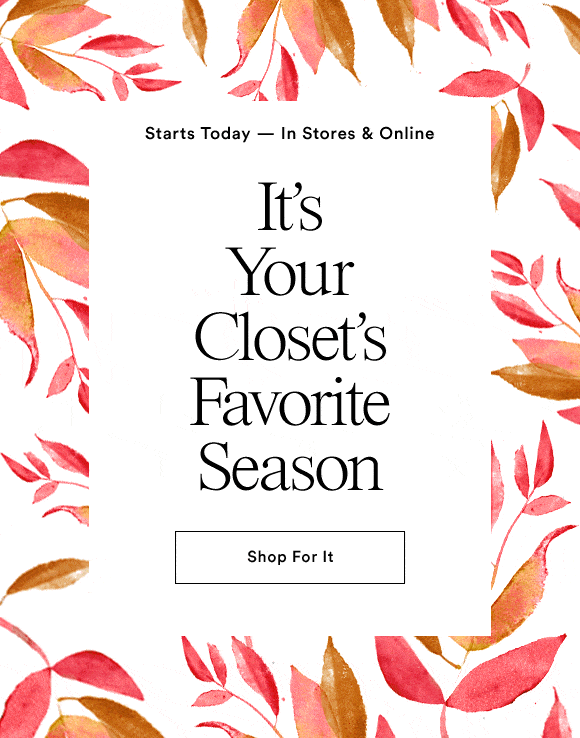 Fall Email Newsletter
What can really increase your chances of generating revenue is an integrated approach. It means that you should also do some vital preparations and last-minute polishing.
Like what you're reading? Subscribe to our top stories.