Guide to Successful Holiday Email Newsletter Campaigns
During the year, email marketers conduct a considerable number of campaigns. Small, big, local, international, seasonal – there is a rich variety. Each month has its list of events that can be used as a perfect occasion to drive traffic to the website. However, nothing can beat holidays and mesmerizing, festive vibe email newsletters.
The holiday season is one of the beloved periods and one of the most profitable. Entrepreneurs and clients are waiting for their dose of joy and cheer. While subscribers are longing for significant discounts and tempting offers, business owners are expecting to increase their revenue and go into the black. The good thing that there are plenty of holidays:
New Year's Day
Orthodox Christmas Day
Chinese New Year
Valentine's Day
International Women's Day
Easter
Nicholas Day
Black Friday and Cyber Monday (although they are not recognized as official holidays, they circled on marketers' and customers' calendars)
Not as big but still popular days include:
Super Bowl (United States)
Mardi Gras
Presidents' Day (United States)
Employee Appreciation Day
St. Patrick's Day
April Fools Day
Victory in Europe Day
Mother's Day
Father's Day
Labor Day
Columbus Day (United States)
Kwanzaa
Memorial Day
Add local holidays for the country where you live such as:
National Day
Independence Day
Groundhog Day
Armed Forces Day
Or religious holidays such as:
Do not forget about subcultures and trends like:
No-Code Email Template Builder
With Postcards you can create and edit email templates online without any coding skills! Includes more than 100 components to help you create custom emails templates faster than ever before.
Try Free
Other Products
Star Wars Day
Pokémon Day
International Harry Potter Day
And, of course, days such as:
Boxing Day
Contact's Birthday
Company Anniversary
Winter Solstice
Made-up Holidays like Giving Tuesday, Happy Monday, Green Monday, Sweet Wednesday, Free Shipping Day, First Day at School, etc.
As a result, there are lots of chances to run a holiday email newsletter campaign, and drive traffic, engage new customers, and boost revenue. To seize every opportunity and make the most out of holidays, follow our guide to successful holiday email newsletter campaigns.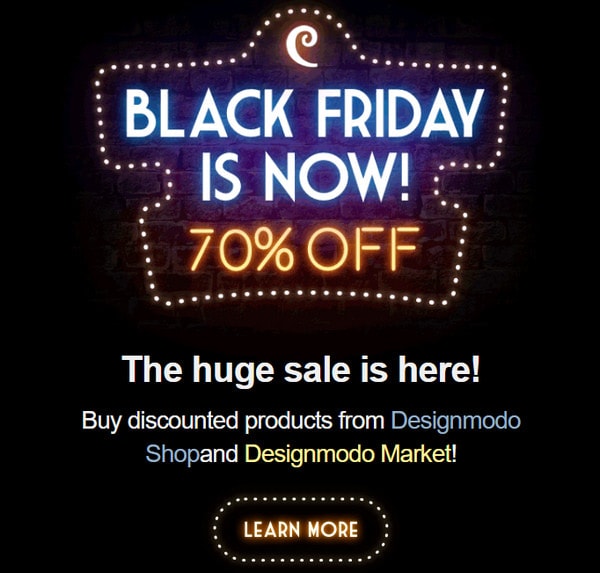 Guide to Successful Email Marketing Campaigns
Plan Beforehand to Start Early
Planning a holiday campaign is crucial.
First, since organizing the entire campaign is a big deal that requires attention, starting early keeps you from missing something.
Second, you will be able to align your website, social media accounts, and other online and offline ventures, making the greatest impact.
Finally, and most importantly, it will allow you to start sending email newsletters earlier. You will be able to drum up interest, maintain excitement, and create anticipation. As a result, contacts will be waiting for email newsletters.
Of course, you can dumbfound subscribers with an offer in the midst of celebrations; however, you will need to fight your way through the sea of email newsletters in contact's inboxes and hope that he or she notices you.
When is the perfect time to start? Everything depends on the holiday. For example, when it comes to Halloween, you can treat contacts with themed email blasts one week before. For Christmas, it is widely believed that the week after Halloween (almost two months beforehand) is a good time to send out the first Yule-inspired newsletter. Therefore, if it is a small or mid-sized holiday, start to send out sneak peeks one or two weeks beforehand. But if it is a big holiday you can kick off the promotions one month earlier.
Do not forget to choose the best time to reach your contacts. Since we are talking about holidays, you need to be very careful. During the festive period, customer behavior patterns differ. The best thing to do is to analyze previous holiday email campaigns to find out the best time; however, if you plan to extend the email campaign for weeks, you can do some tests on the spot to refine results.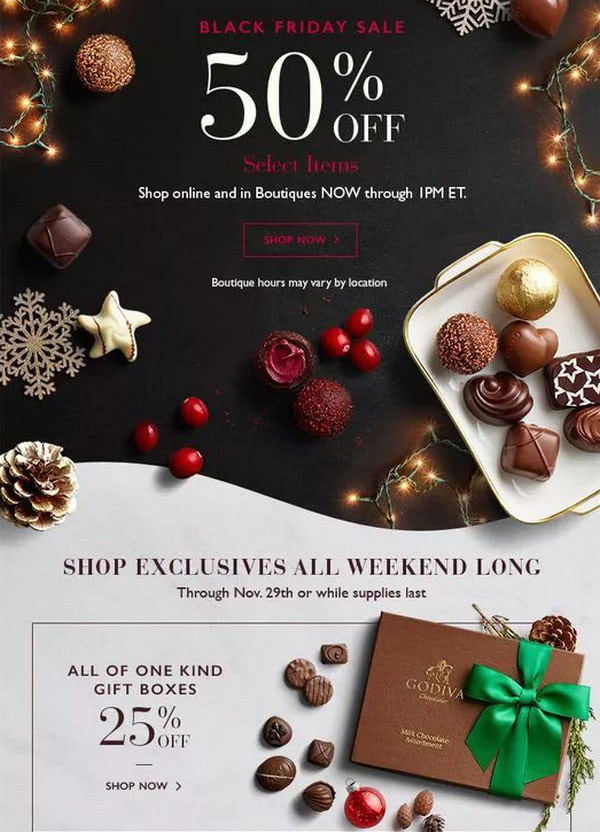 Email Newsletter from Godiva
Bring Value
Although the holiday email newsletter draws attention with a considerable discount by default, you can maximize an effect by delivering extra value to contacts.
Shipping Arrangements
Along with discounts, it is one of the most important things for your subscribers during the festive season. All of us want to get our presents on time. Therefore, inform contacts about shipping arrangements beforehand so that they can plan accordingly. You can even dedicate an entire email newsletter for such purposes.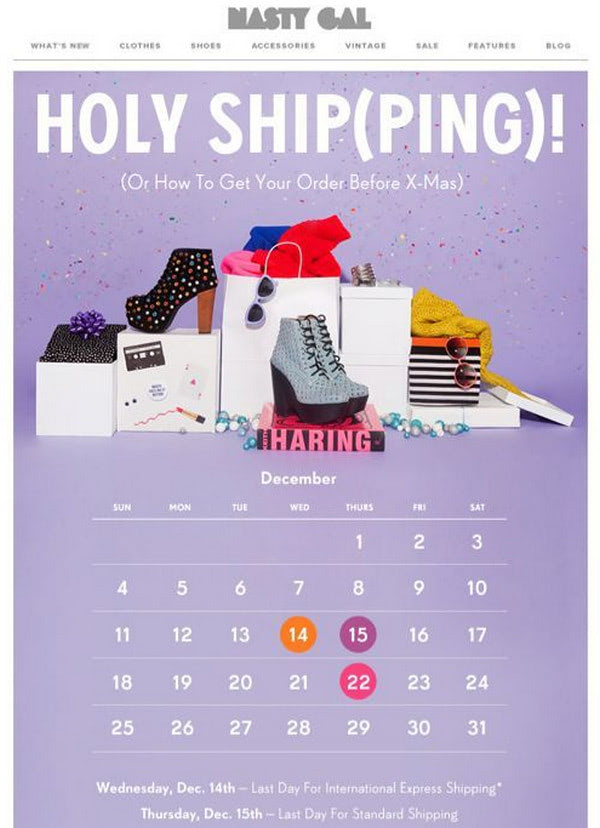 Shipping arrangements from Nasty Gal
Gift Guides
Another way to turn your email newsletter into something big, engaging, and impactful is to create a gift guide. It is a non-intrusive way to tout products. A small guide that shows customers what to buy for a particular group of people may become a perfect boost for visiting your site and acquiring those goods.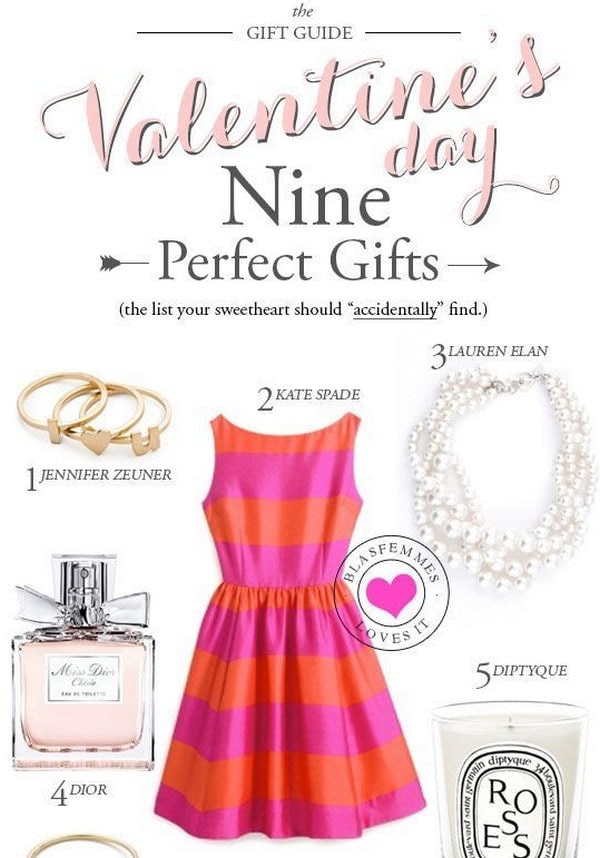 Gift Guide by Steve Madden
Holiday FAQs
If gift guides are not your thing, and you want to stick to the informative side, consider Holiday FAQs.
"How to Survive This Holiday" is a popular title for this kind of email newsletter. Come up with helpful tips and tricks as well as an FAQ to ease the pain of the maddening preparations and post-holiday consequences.
Non-Promotional Options
As a rule, this type of email newsletter is used to increase brand awareness, become closer to your audience and contribute to the relationships, and build trust. There is no better time than during the holiday when your crowd is in high spirits. So what can you do?
Create a "Year in Review." Note this is not just for New Year email campaigns; you can easily hold it back for another national holiday or your company's birthday.
Become a participant on Giving Tuesday.
Report about charities and fundraising initiatives held by the firm.
This non-promotional email newsletter will serve as an informative piece that strengthens the brand image in the customer's eyes.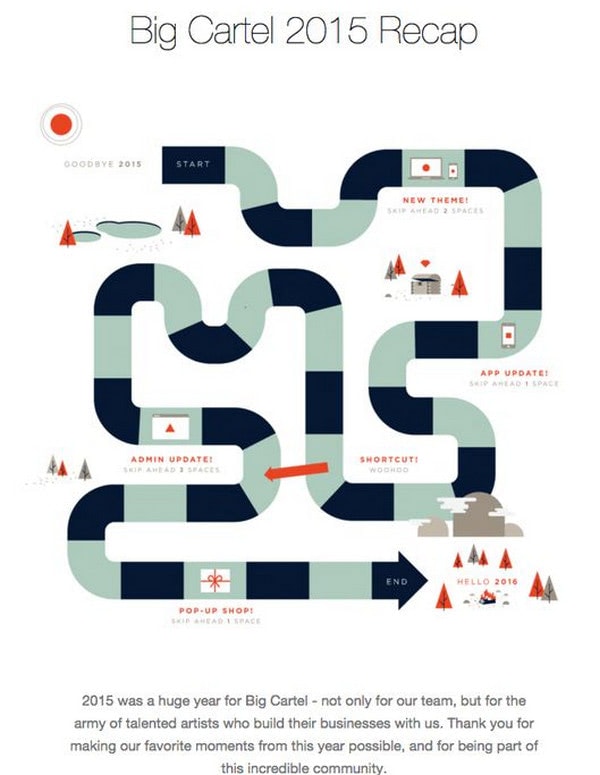 Big Cartel 2015 Recap
Give Thanks
This is also a non-promotional email newsletter that can stand apart from other messages.
A rule of thumb mandates that every holiday email campaign should have at least one congratulatory newsletter. While it is an excellent sales opportunity, holidays also mean something more to customers. By subscribing, you are invited into their lives. Respect this by showing your appreciation and involvement.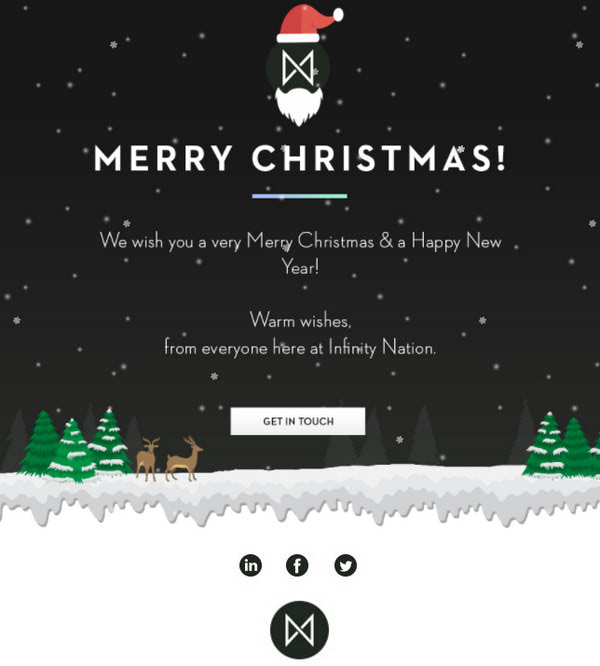 Merry Christmas from Infinity Nation
Note it is customary to create an email newsletter with only congratulations, and it is undoubtedly the right way to do so. However, marketers often combine it with advertising techniques and marketing tricks.
For instance, along with wishes, you can offer a gift, a special coupon, or an exclusive deal. As a generous gesture, this small psychological trick plays on reciprocity and can be hard to resist, especially for customers who are in a good mood.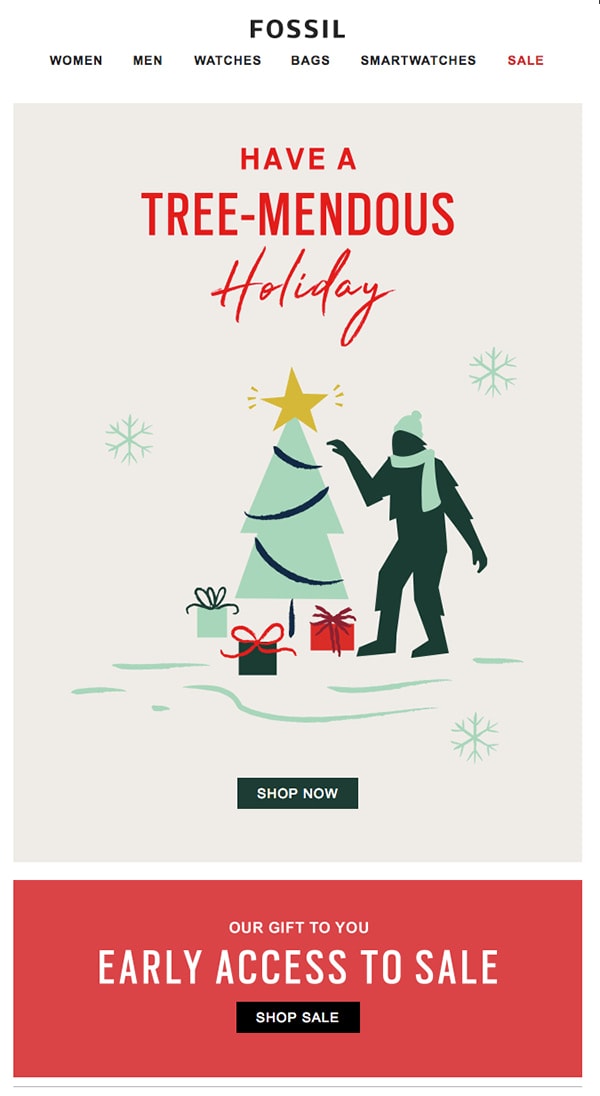 Wishes from Fossil
Focus on Festive Design
Whether you run a regular fall email newsletter campaign, or you create something big and special for Black Friday and Cyber Monday weekend, the design should reflect it. The theme of your email newsletter should be evident. It is essential. An appropriate entourage for your offer helps to express holiday cheer and bring home the required message, plus maximize the overall effect.
To achieve a celebratory atmosphere, you can use various festive features and design tricks, such as:
Note: If you want to use gifs and emojis, you need to make sure your audience will be able to see and enjoy them since not all email readers support interactive and animated elements. For this reason, videos and audios are undesirable elements for email newsletters. Check out our guide to Limitations of HTML Email Templates in MailChimp to see for yourself.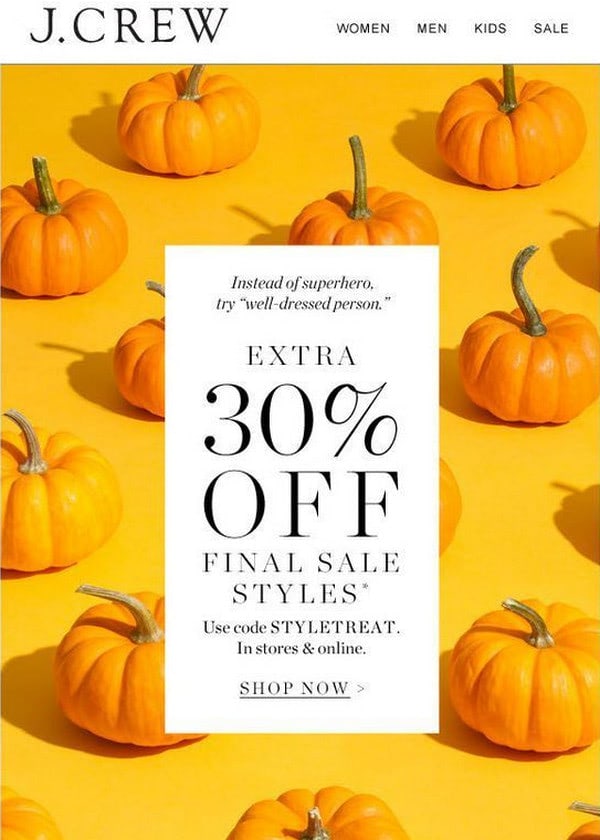 Email Newsletter from J.Crew
Before jumping into spreading decoration all over the place, make sure the layout of the email newsletter works consistently across devices, browsers, and email readers. Need help? Postcards, a free HTML email template builder, comes to the rescue. With its intuitive drag and drop interface packed with more than 100 functional blocks, it will help create a fully responsive layout for holiday-infused email newsletters in no time and without coding or design skills. Use it to build a skeleton and also create a sterling email newsletter with your design elements and content in minutes and without much hassle.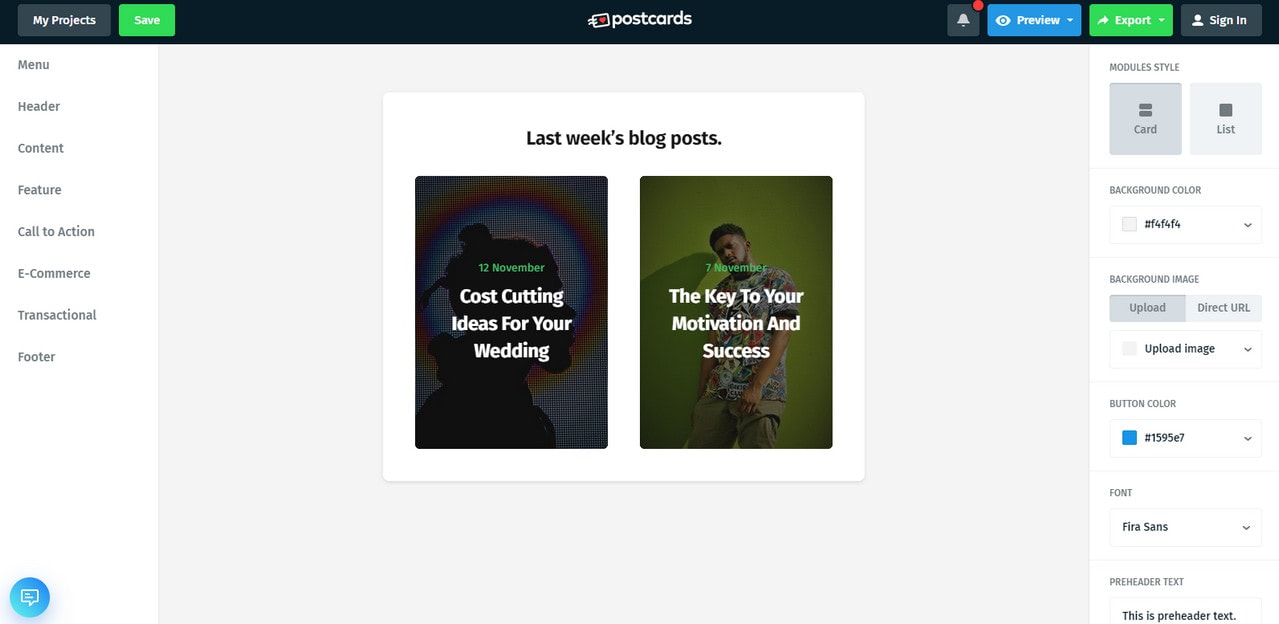 Last but not least. If you need a solution right here and right now, you can quickly adopt one of outstanding Postcards-powered email newsletter templates such as:
They are ready to be put into action and convey the message in a stylish and consistent way.
Shopping Incentives
Although a big discount is a primary driving force, however, it does not mean that you can't maximize the effect even more by adopting some extra shopping incentives. Free shipping, gifts, coupons, and some others will help to do this.
Free Shipping
Any holiday implies considerable expenditures. Every penny counts. If you want to increase your chances of becoming the ultimate shop for holiday presents, offer free shipping. This shopping incentive has the word "FREE," and as we all know, this powerful word can do real magic with the decision-making process.
Email Newsletter from Bonobos
One-Day Rush
Overnight shipping is a life-saver for people who need to act fast. As a rule, when it comes to big days like Christmas or Thanksgiving, we are all running behind schedule. Offering an opportunity to buy gifts and receive them the next day drives more traffic to the website and gets your brand extra points for the next holiday.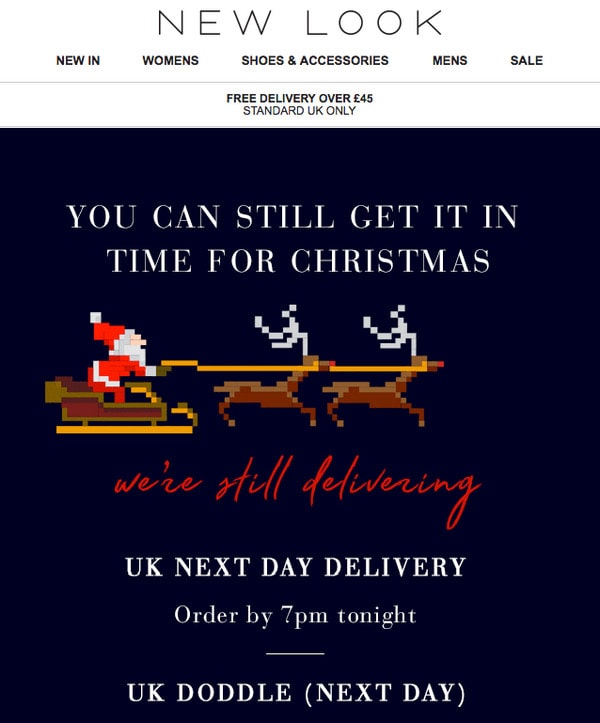 Email Newsletter from New Look
Time-Tested Psychological Tricks
Although holiday email marketing campaigns differ from others, old-school psychological tricks never get old. They are small tools that skillfully manipulate customers and influence the decision-making process. Among the popular yet viable and highly convertible ones are:
Stressing urgency,
Creating a fear of missing out
Establishing a sense of exclusivity
Showing limited edition
Playing off reciprocity
Each of these tricks can be used alone or in combination with others. However, a holiday is not a time to be too pushy. It implies time-sensitive offers and urgency by default, therefore practice caution while using these tricks.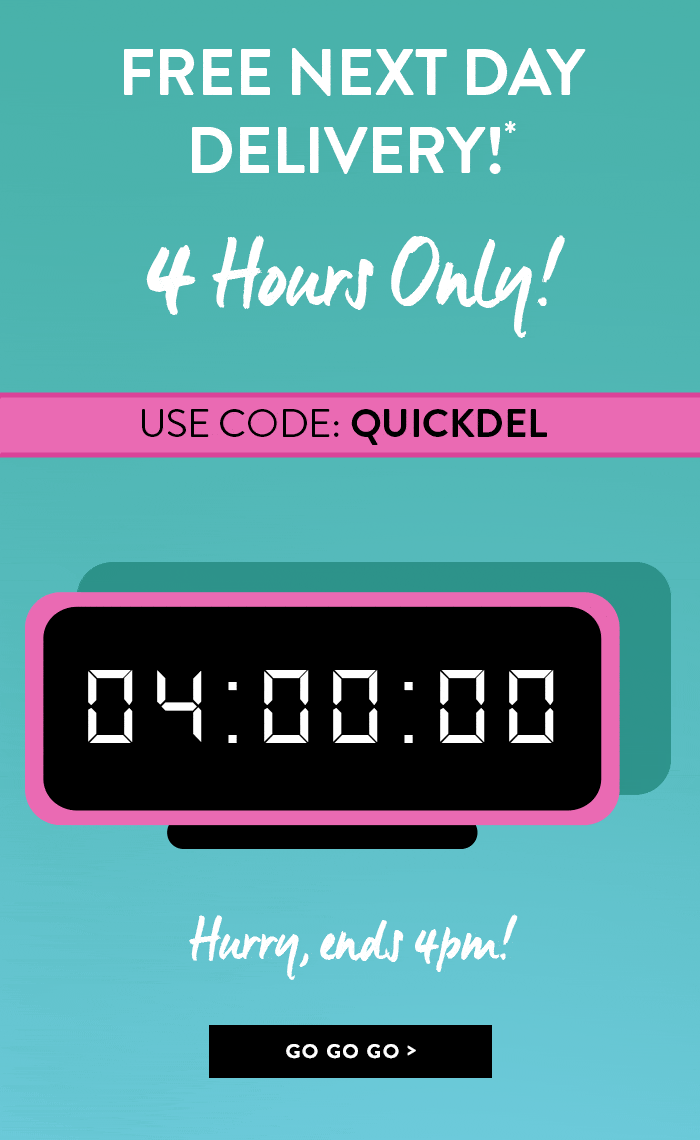 Email Newsletter from Boohoo
Post-Holiday Campaigns
Post-holiday email newsletters are integral elements of marketing campaigns. Not every holiday requires it, but the majority of big events end with extended sales. As a rule, target subscribers who miss an opportunity to visit your store during the active window sale. Coming as a surprise, this can win over even those who have already bought something.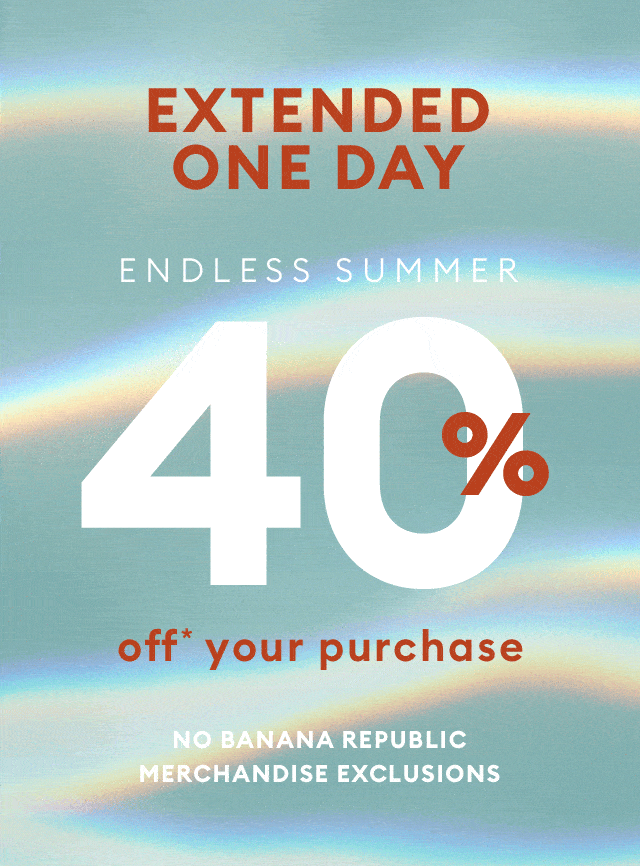 Email Newsletter from the Banana Republic
Basic and Last-Minute Preparation
Every good email marketing campaign rides on 7 principles of highly successful email marketing that is enhanced with smart tips to generate more sales. In short, the things you need to do include:
On top of that, check out our Email Marketing Campaign Pre-Launch Checklist for last-minute preparations.
Like what you're reading? Subscribe to our top stories.