Email Marketing Ideas for E-commerce Websites
Email marketing and e-commerce are mutually reinforcing elements. While they can exist independently, they are inseparable when it comes to online sales. They provide business owners with a powerful tool for drawing attention toward the brand, keeping audience interest alive, generating traffic, and increasing revenue. Therefore, whatever actions you are going to take for your online store, they should always be coordinated with email marketing strategies.
Create Email Templates with Postcards Email Builder
Postcards: Email Template Builder
The great thing about email marketing is that it never stops working. Your e-store may and certainly will experience periods of calmness; however, email newsletter campaigns drive traffic and lure potential customers in. You can benefit from its never-ending stamina. There are different strategies to accomplish this.
Email Marketing Primer
It's always good to start with the basics. Before sending out an email newsletter, make sure that:
No-Code Email Template Builder
With Postcards you can create and edit email templates online without any coding skills! Includes more than 100 components to help you create custom emails templates faster than ever before.
Try Free
Other Products
The subject line rocks. It should be short (preferably 30-40  characters) and straight to the point. You can use time-sensitive indicators, emojis, the magical word "Sale," etc.
The subscription list is cleaned and properly segmented.
The email newsletter is personalized.
The timing is in accordance with audience preferences.
The email template complies with browser/client limitations. (If you use Mailchimp, check out our helpful guide.)
Background images have alts.
Animated gifs are appropriate for your audience.
The campaign is refined according to the results of A/B tests.
The design of your email newsletter should meet current requirements. It has to be responsive, mobile-friendly, browser-compatible, and, most importantly, work consistently across all popular email readers. To make sure that this stage is passed successfully, you can use an online HTML email template builder, like Postcards, that does the heavy lifting.
Postcards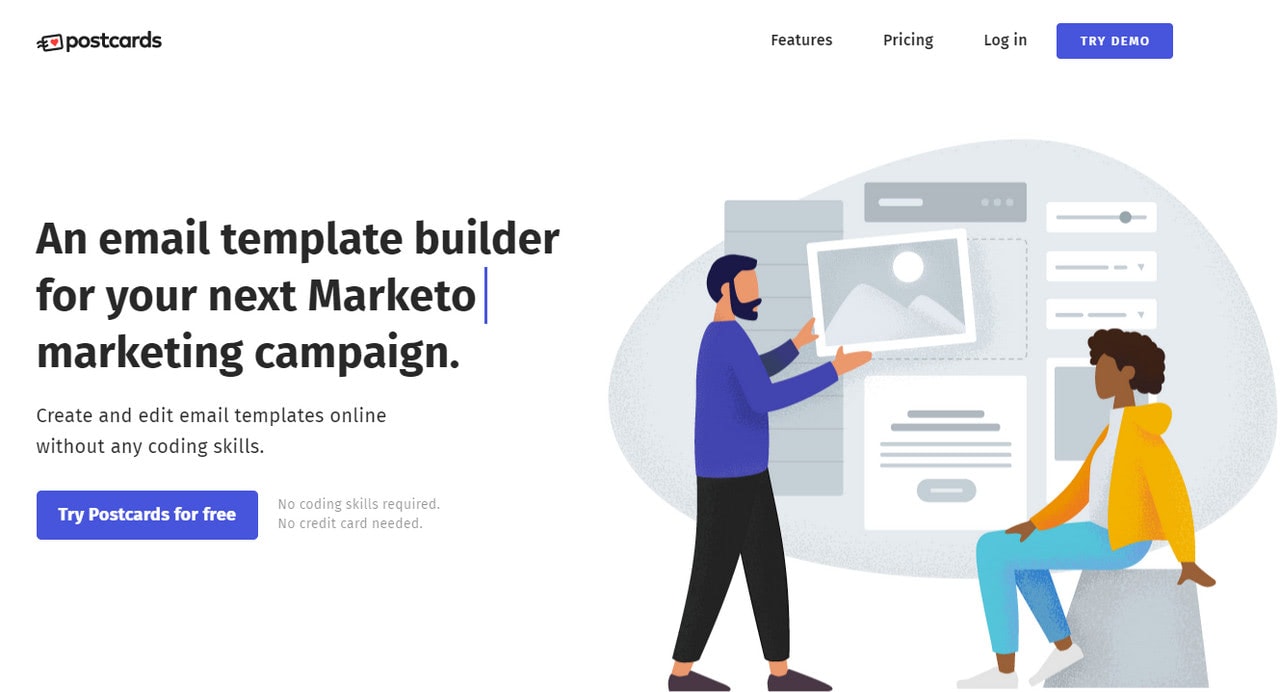 Postcards assists in creating an email newsletter of your dreams without coding or design skills. It has more than 100 stylish blocks and components that can be mixed and matched in an intuitive drag and drop environment. The creation of the design boils down to simply choosing the required units and quick customization.
Build the desirable structure, add your background, set a headline in an eye-catching typeface, select brand coloring, or add interactive hotspots to engage contacts. It's neat, smart, hassle-free, and quick.
To try Postcards, start with one of these free HTML email newsletter templates: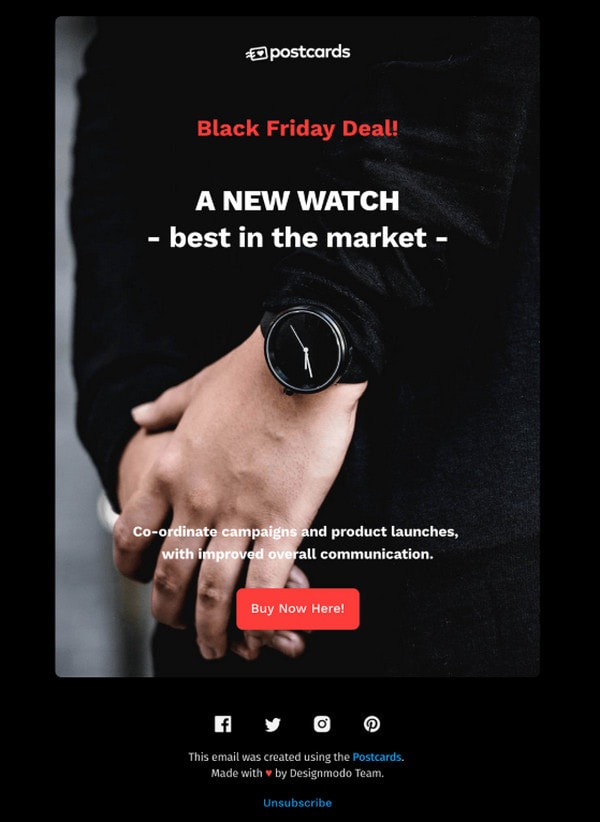 Email Marketing Ideas for E-commerce
Popular Email Marketing Ideas Focused On Products
There are a dozen good ideas inspired by goods. Consider an email newsletter that features the following:
A recommended product. Analyze client preferences and shopping history to provide valuable content.
A new product. Give subscribers early bird access to a new collection.
Pick of the day or week. Pick the product that is the most original, the most viewed, or has top ratings.
Bestsellers. Everyone wants to be on top of the world. Top products draw attention. Here you can show best-selling products of the week or month, as well as season, year, and obviously collection.
Back in Stock Products. This kind of email newsletter is highly anticipated because people sign up for updates. However, no one stops you from sending out an announcement to other subscribers. Analyze contacts' shopping history. Maybe the product will be of interest to others as a complementary purchase. In this way, you will be able to cover a broad audience.
Limited Edition Products and Exclusive Sale. "Limited" and "Exclusive" are a driving force. Much like "SALE," they have a significant influence on the decision-making process. Everything limited and exclusive always appeal to the audience. However, do not use it too often since these two imply the rare appearance.
Sneak Peeks. Showing products that are going to hit the shelves and giving your subscribers early access make them feel like VIPs. It also ignites interest and creates anticipation, thereby increasing your chances for higher open- and click-through rates.
These are the most popular ideas; however, you can easily come up with something new. For instance, you can send out an email newsletter that covers product reviews or feedback.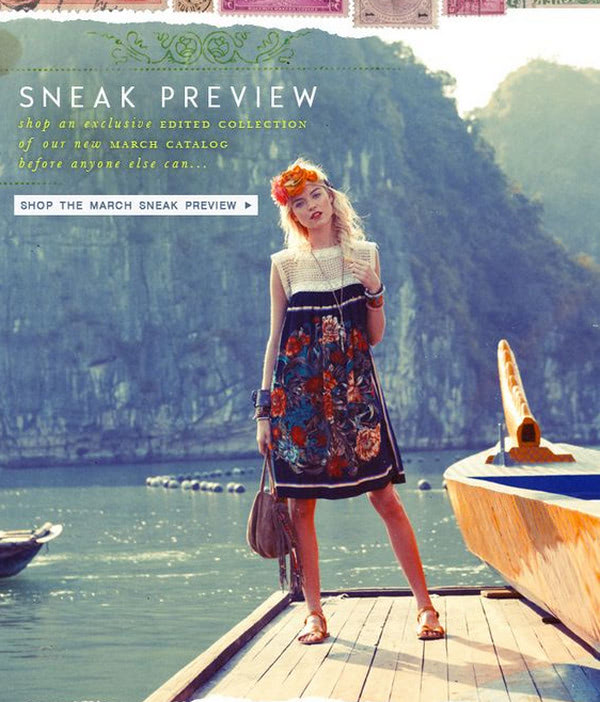 Sneak Preview
Popular Time-Sensitive Campaigns
Time-sensitive offers are a classic psychological trick. They create a feeling of "now or never" pushing customers to follow the lead. There are several time-proven options for e-commerce: Flash Sale, Final Sale, and Last Chance.
Mystery Flash Sale
A one-day offer is quite a widespread phenomenon. It is used for impulse buying that proves effective. Since it is a flash sale, it should be perfectly synchronized with the website. If it ends, it ends.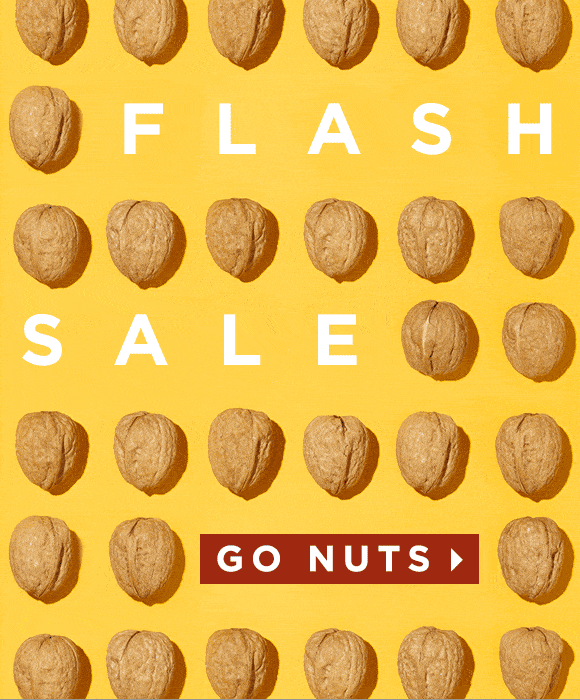 Flash Sale
Final Sale and Last Chance
Much like the "Limited Edition Products," these two also have powerful words – "Final" and "Last." They are time-sensitive by default. Therefore you do not need to indicate this. People get it right away since the sense of urgency is highlighted.
Reinforce the effect even more by offering a big discount, making the subject line loud, or including motivational phrases such as "Hurry Up."
What's more, you can also go for the "Last Minute Deal" playing on the FOMO card.
Last Chance 
Seasonal Campaigns
Seasonal campaigns are not just to fill gaps between holidays or announcements of new collections. They are essential for the overall email marketing strategy. They help to keep subscribers interested, remind about the brand, and cultivate healthy relationships with contacts. Popular options are mid-sale and off-seasonal sales. Use themed designs to set your contacts into a good mood. For instance, if it is the Fall campaign you can always use some autumn decorations to indicate this.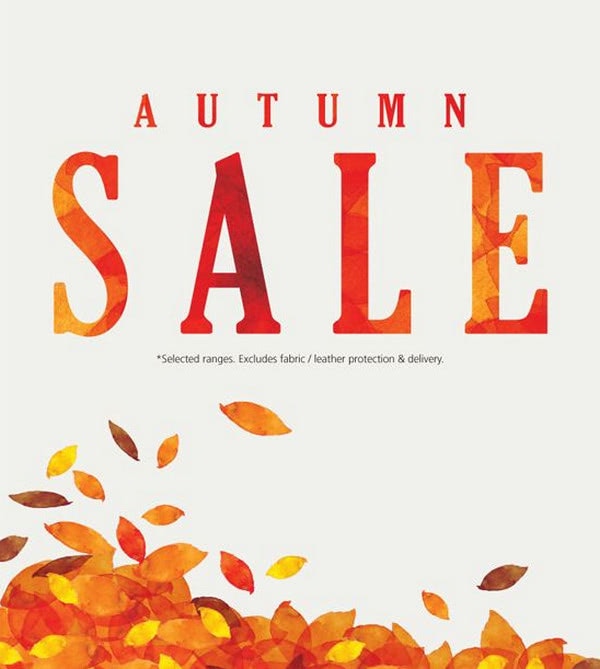 Fall Sale Email Newsletter
Holiday Campaigns
It is always a pleasure to run a holiday campaign. Everyone is in a high spirit; consequently, offers are easily accepted. Another great thing is that there are hundreds of holidays for valid sales opportunities. Starting from the big ones such as Halloween or Thanksgiving and ending with local ones like Oktoberfest or National Day, let's name the most popular:
New Year's Day
Orthodox Christmas Day
Super Bowl (America)
Chinese New Year
Valentine's Day
Presidents' Day (America)
Employee Appreciation Day
Shrove Tuesday/Mardi Gras
Women's Day
Patrick's Day
April's Fool Day
Easter
Mother's Day
Victory in Europe Day
Father's Day
Independence Day (America)
Ramadan
Labor Day
Columbus Day (America)
Halloween
Thanksgiving Day
St. Nicholas Day
Christmas Day
Kwanzaa
Last Day of Chanukah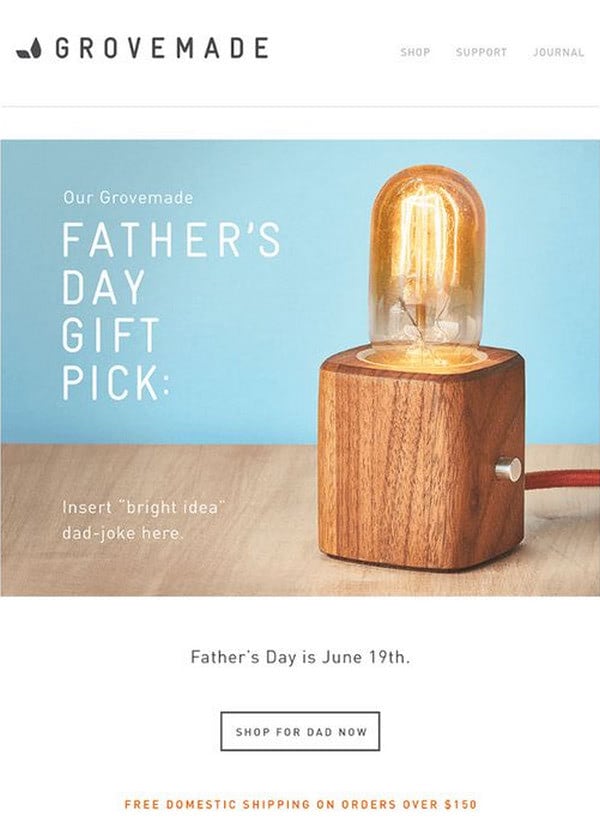 Father's Day by Grovemade
Add to this Bank holidays, December/June Solstice, Black Friday, Cyber Monday, National Days, and you end up with lots of reasonable opportunities to reach contacts.
Hint: You do not have to make your campaign a one-day event. You are welcome to send out the first festive email newsletter much earlier, as well as prolong the campaign even weeks after the holiday ends.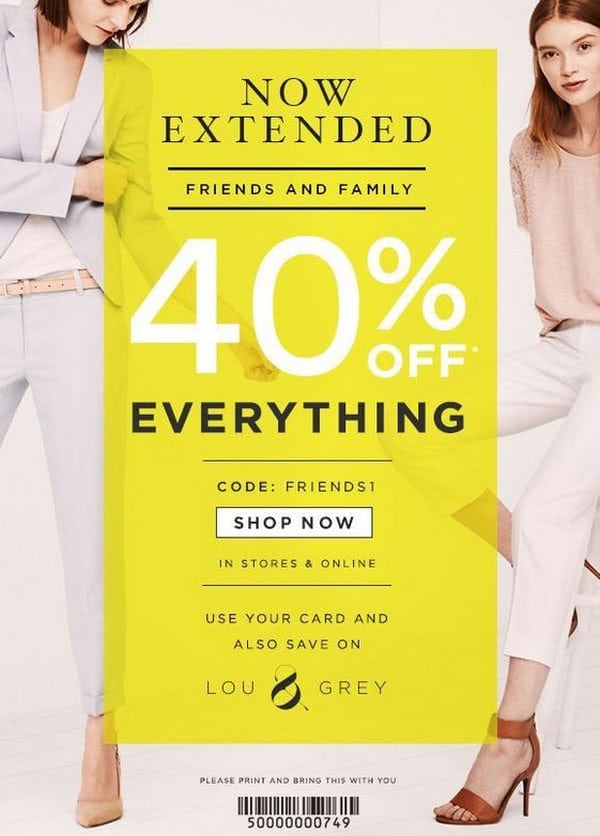 Extended Sale 
Plant the Seeds with Email Personalization
Know Thy Customer
You know what they say – you can't judge a book by its cover. Well, the same goes for customers. Take the time to dig deeper and get to know your audience. Understanding their preferences, purchase history, and behavior will help you craft tailor-made emails that hit the nail on the head.
Make 'Em Feel Special
Everyone loves feeling like a VIP, right? That's why personalized recommendations, exclusive offers, and birthday discounts will make your subscribers feel on top of the world. It's like killing two birds with one stone – they'll feel special, and you'll boost sales. Win-win!
Get the Ball Rolling with Email Automation
Welcome Emails: The Handshake of the Digital World
First impressions count, so make your welcome emails as warm and inviting as a bear hug. Thank your subscribers, give them a little something-something (like a discount code), and show them what they can expect from you. It's like rolling out the red carpet!
Cart Abandonment Reminders: The Gentle Nudge
We've all been there – adding items to the cart, only to get cold feet at the last minute. But fear not! A friendly reminder can work wonders in bringing those wayward shoppers back to your e-commerce website. So go ahead, give them a nudge – they might just need it.
Sprinkle in Some Email Storytelling
The Human Touch
People love a good story, and your e-commerce website is no exception. Share the story behind your brand, showcase customer testimonials, or give a sneak peek behind the scenes. By adding a human touch to your emails, you'll create a connection that's worth its weight in gold.
The Art of the Subject Line
They say don't judge a book by its cover, but we all do it. Your email's subject line is the first thing your subscribers see, so make it count. Craft a subject line that's enticing, intriguing, and downright irresistible. After all, curiosity killed the cat, but satisfaction brought it back.
Original Email Marketing Ideas
Industry Trends
It may sound more informative rather than promotional; any informative email newsletter is an excellent opportunity to tout products in a non-intrusive way. On top of that, you can also send out how-tos, tips, checklists, and even online calendars.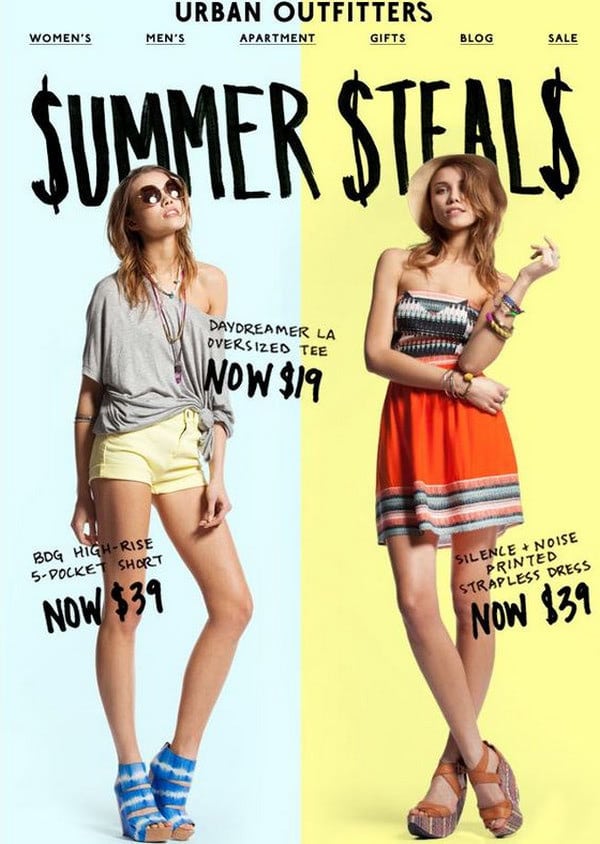 Email Newsletter from Urban Outfitters
Gift Guides
Gift guides go hand in hand with holidays. It is logical to run this sort of campaign on Christmas, New Years, or Easter. Quite often, people forget about birthdays, and the subscribers may require some good pitches of what to give their relatives, friends, or colleagues. Therefore, you can create gift guides each month and help your contacts to deal with this issue on the professional level.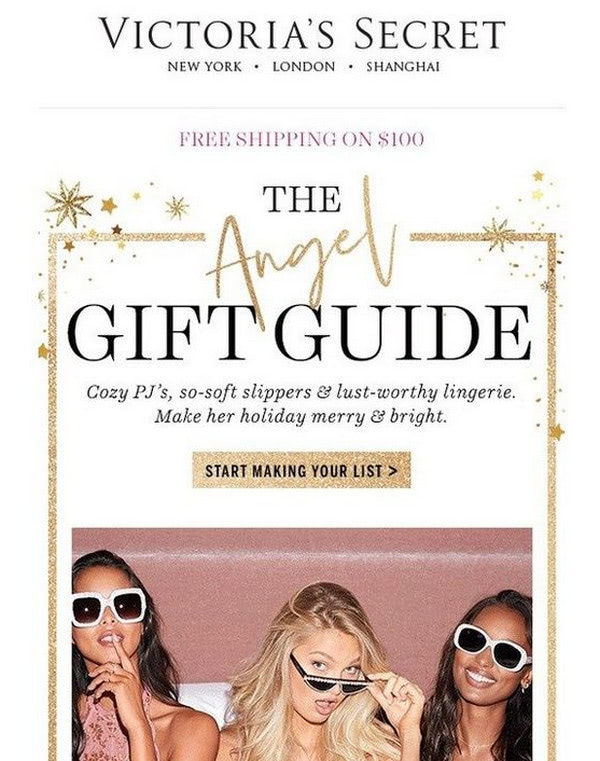 Gift Guide by Victoria's Secret
Made-Up Holidays
If you feel like your email campaign needs a festive mood and positive emotions, you do not have to wait for a big day in the calendar. Just make up your holiday.
We have already heard about Happy Monday. So why not treat your contacts with your traditions, for example, "The first day of the month," "Christmas in July," "Black Friday in May," "Flash Sale Weekend," "Discount Thursday" etc.
Going the extra mile never hurt anybody. Small incentives can generate leads and enhance the brand and contribute to relationships.
Green Monday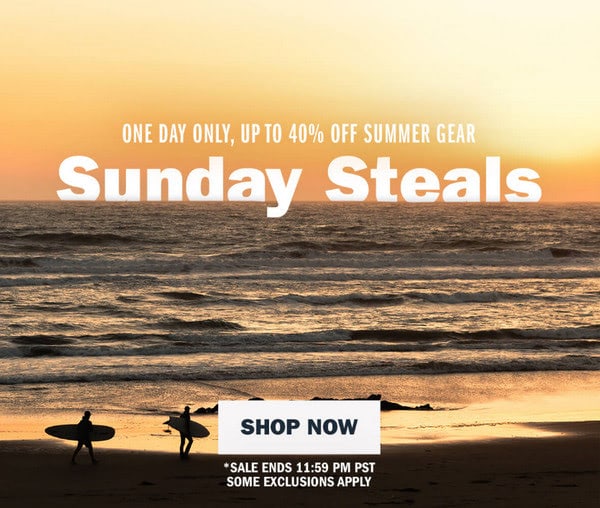 Widely Overlooked, Yet Highly Effective Email Marketing Ideas
Company Birthday or Subscriber Birthday
A birthday is a big day. Whether it is an annual celebration of the company or your subscriber's birthday, it should be special. Combine congratulations with a small gift (special offer, discount, VIP access, free one-day delivery, etc.), and you will undoubtedly win some extra points.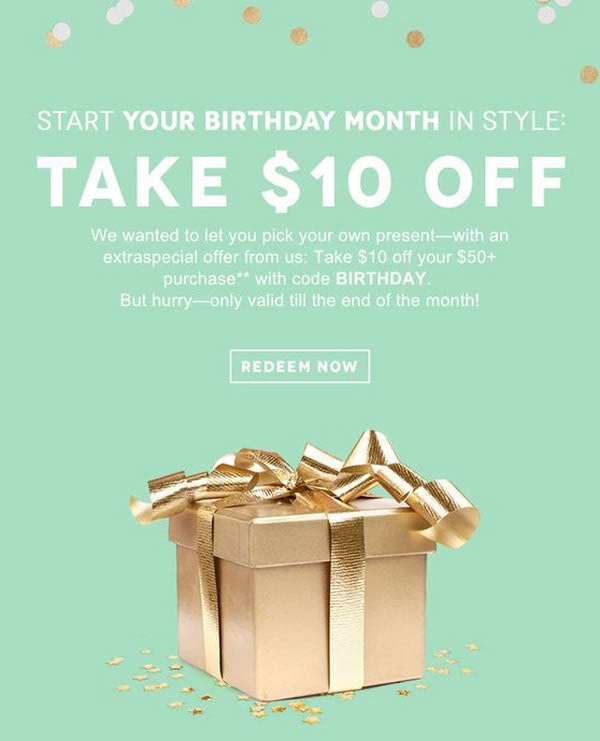 Happy Birthday
Transactional Emails
Transactional emails are often overlooked, especially when it comes to such significant events like Thanksgiving Day, Christmas, and Black Friday. Nevertheless, they are powerful tools and excellent opportunities.
There are email newsletters that are designed for re-engaging subscribers, such as an "Abandoned Cart Notification" or "We are Missing You." And some emails can be easily adjusted to drive extra traffic.
Any transactional email newsletter can be of help – all you need to do is skillfully work some shopping incentive into the design.
Welcome from Smiles Davis
Local Event Emails
If you run a small company and your target audience lives nearby, monitor all the local events. Hometown festivals, concerts, and just small one-street food events can become a perfect sales opportunity. People like to be kept in the loop. Show products that will help them stay on trend, to build your relationship.
If your target audience is the entire world, monitor the global news. Keep an eye on everything interesting: Milestones, anniversaries, exciting events, or even hilarious situations can do the trick.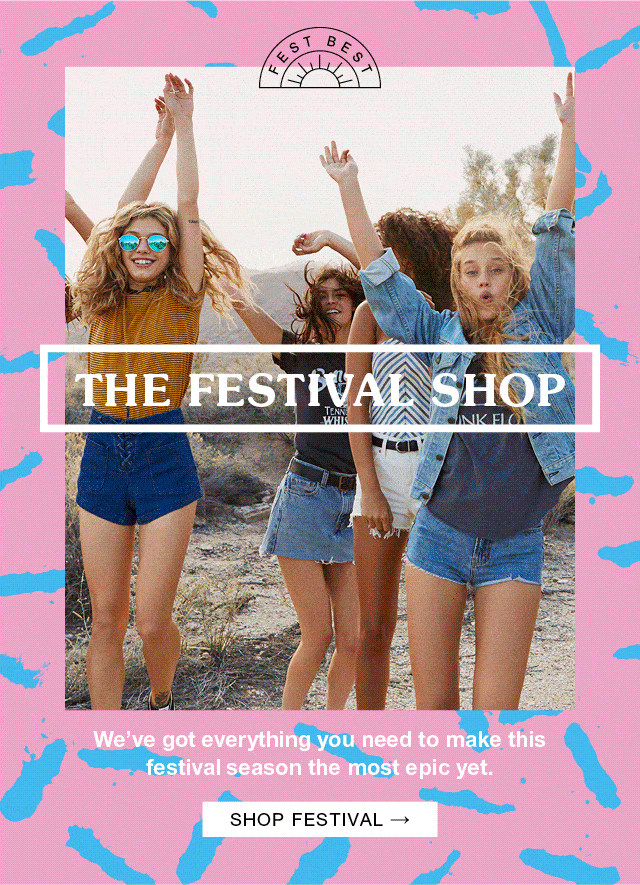 The Festival Shop
Emails Centered Around Celebrities
Celebrities have a massive influence. It is a huge motivator for subscribers. Not everyone can afford star to promote a product, but you can survive without that.
Follow the news and gossips to benefit from popular references, puns, or gifs. Offer products while hinting about the social situation, and you will easily ignite interest and drive traffic to your online store.
Conclusion About Email Marketing and E-commerce
In conclusion, email marketing remains an essential and effective tool for e-commerce websites to engage with their customers, foster loyalty, and drive sales. By leveraging the right strategies and personalizing content, businesses can create an email marketing campaign that resonates with their target audience and drives measurable results.
Remember to:
Segment your email list: Cater to different customer groups based on their preferences, purchasing behavior, and demographics.
Craft compelling subject lines: Grab your recipients' attention and spark their curiosity, encouraging them to open your emails.
Personalize content: Use customers' data to tailor emails, offering relevant product recommendations and promotions.
Optimize for mobile: Ensure your emails are easily readable and navigable on mobile devices.
Utilize triggered emails: Implement automated emails, such as abandoned cart reminders, welcome emails, and post-purchase follow-ups.
Offer exclusive deals: Reward your subscribers with special offers, discounts, or early access to sales events.
Test and analyze: Regularly review your email marketing performance, using data-driven insights to optimize future campaigns.
By incorporating these key elements into your email marketing strategy, your e-commerce website can build lasting relationships with customers and boost overall revenue. By continually refining and improving your campaigns, you can ensure that your email marketing remains a powerful tool for driving business growth.
Like what you're reading? Subscribe to our top stories.